Question
Hi, We are using Retail Pro as our POS and Magento for our webstore. Currently we are having trouble with upc and GTIN numbers coming over to Magento automatically. Last season, GTIN numbers had to be entered into hundreds of product manually. We would like to avoid this problem this season.
Answer
Thank you for your interest in our Retail Pro Integrator.  Our integration between Retail Pro and Magento works a little differently.  When products initially get added to Magento it populates a bunch of fields (Name, Price, SKU, etc.).  However, on subsequent updates it typically ONLY updates two key fields:  Price & Quantity on Hand (QOH).  That's it.
We will not touch any other data elements in Retail Pro.  You can change all the fields you want in Magento, expect for Price and QOH, and rest assured they will never be overwritten by our integration.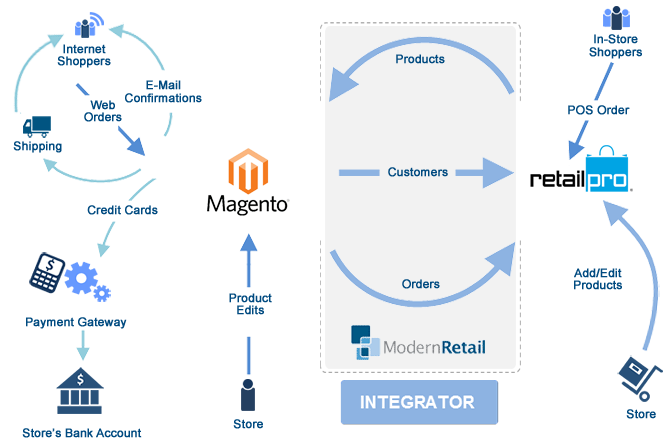 If you need more information you can get an overview and purchase our Retail Pro Integrator here:
If you are interested in how we run your project and what that looks like, please read:
Finally, if you're interested in our on-going support and upgrades, please read:
You'll find we're experts at POS and ERP integrations, it's something we been doing for over a decade and have amassed a great deal of knowledge and technology.  Here are just some of the articles we could share with you:
Please let me know if you have any questions, I'd be happy to jump on a call with you.  Thanks!