Overview
Potential customers sometimes ask what's included in the monthly service fee. The answer can be pared down to two main things: support and upgrades.
Support

Every client gets access to Zendesk, our support and help desk system. If you haven't used Zendesk before, it is a super-simple way of submitting and tracking any question or issue you may have with your integration. In fact, what you're reading right now was composed in Zendesk.
The following articles describe how to submit and view Support Requests with Modern Retail:
Upgrades
People who work at Modern Retail are never satisfied, which is a curse for us but a blessing for you. We're constantly trying to improve the service we provide to our customers, improve our integrations and expand into new areas to serve you better.
Upgrades happen with four different systems and software:
Modern Retail
Ecommerce Platform
POS or ERP System
Other Systems
One of these four systems will undoubtedly be upgraded while you're using our integration services. I'll explain what you can expect from each upgrade.
Modern Retail
When you sign up for one of our integrations, you receive a free lifetime of upgrades for as long as you are using our integrator. Like many systems today, sometimes these upgrades are done in the background and you have very little knowledge of them even occurring, whereas other times you may elect to install the upgrade. Modern Retail works very hard to ensure all our upgrades are backwards compatible.
For example, in late 2014 we rolled out a new dashboard for our WooCommerce Integrator. Existing clients received this upgrade at no additional cost (our customers love it!)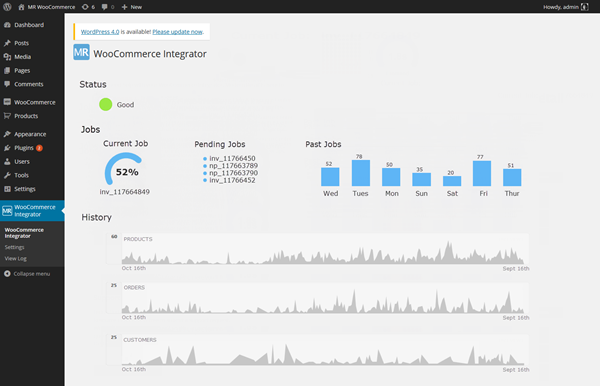 Ecommerce Platforms
This answer depends on which ecommerce platform you are using for your website. Upgrades to cloud-based platforms such as Shopify and Bigcommerce are included. While the APIs for these platforms do change, they are generally supported for a long time, allowing us to migrate to the newer APIs over time for all our clients. Magento has gone through a series of "minor" upgrades over the years and all of these upgrades have been included free of charge. For example, Magento 1.8 customers who upgraded to 1.9 used the same license and were not charged for the upgrade. However, in late 2015 Magento released Magento 2, which was a completely rewritten version of their platform. Customers using an older version of Magento who are moving to Magento 2 are most often redesigned their website for the new Magento 2 platform. In these cases customers need to purchase a new Magento 2 license from us. Potentially the same thing could happen to WooCommerce where they could come out with a entirely new version of their software, which is incompatible with their previous version. So far this has not happened and all WooCommerce upgrades thus far have been included for free.
POS & ERP Systems
POS and ERP system upgrades are much like ecommerce platforms discussed above. Generally, the cloud-based systems are upgraded at no additional cost. However, systems where the software is installed at your location may incur a charge. The answer depends on the sort of upgrade happening with the POS or ERP system. If your POS or ERP company comes out with an entirely new system, with a new method of doing integrations, there could be a charge for the upgrade. Whereas minor upgrades are generally included as they do not affect the integration.
Other Systems
Modern Retail is being asked to integrate a variety of systems including gift card, loyalty, CRM, etc. These are too numerous to list here but the same logic as discussed above applies. Generally, cloud-based systems the upgrades are included at no additional charge, whereas on-premise software may.
Please don't hesitate to Contact Us or submit a Support Request if you have any questions. Thank you.