Question
I received the following warning message from Google today:
Google systems have tested 518 pages from your site and found that 100% of them have critical mobile usability errors. The errors on these 518 pages severely affect how mobile users are able to experience your website. These pages will not be seen as mobile-friendly by Google Search, and will therefore be displayed and ranked appropriately for smartphone users.
Google says these problems can be fixed by:
Find problematic pages
Learn about mobile-friendly design
Fix mobile usability issues on your site
Can you help me?
Answer
We know exactly the e-mail from Google you're referring to, and I suspect it looks similar to the following: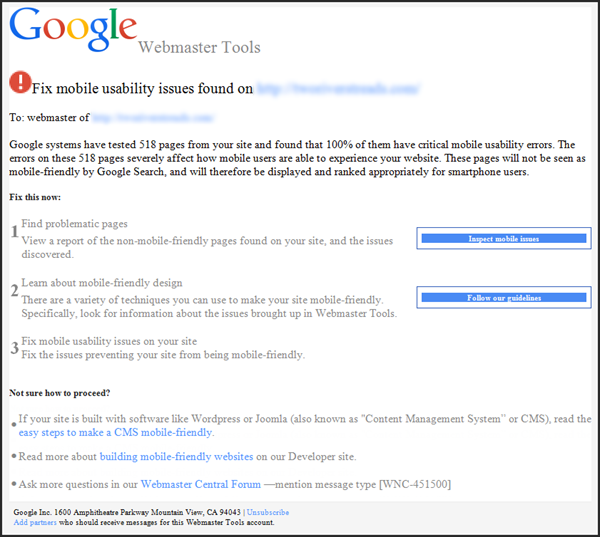 What Google is basically trying to tell you is your website has not been designed to be responsive or mobile-friendly. Responsive Design is a term coined by Ethan Marcotte when he released his book Responsive Web Design in May 2010. A website that has a Responsive Design will automatically sense and respond to the consumer's screen size. Smaller displays, such as mobile phones, will receive a slimmed down version of the website. Larger screens, such as someone's PC, will see a fuller, richer version of the website.
Google is placing more and more emphasis on responsive designed websites and is now issuing the above warning if it finds your website is not responsive.
Please submit a Support Request if you would like Modern Retail to convert your website to a design that's responsive. Thank you.