Question
We hired an SEO company who's going going through our website changing our Search Engine Descriptions for all of our brands. However, they seem too generic and don't relate back to the brand.
A perfect example of what's happening is with the brand Chinese Laundry. The SEO company has replaced what we wrote with a generic description that doesn't even include the brand name Chinese Laundry. Another item I noticed was with the Search Engine Titles – they seem too long.
Would you please log into Store Manager and look at the Search Engine Description underneath Chinese Laundry. Then look at the brand Hunter. You will see the difference between the two descriptions.
Answer
Well done! It looks like some concepts have stuck with you from our various marketing meetings! You're right, what's being entered in the Search Engine Description by your SEO company is not great. The text for Chinese Laundry is too generic and not specific to Chinese Laundry at all. Would you as a shopper pick your link from the list of results in Google? I wouldn't because it says nothing about Chinese Laundry, isn't sexy and there's no call to action. You are also correct about the Search Engine Title, it is too long and should be less than 60 characters.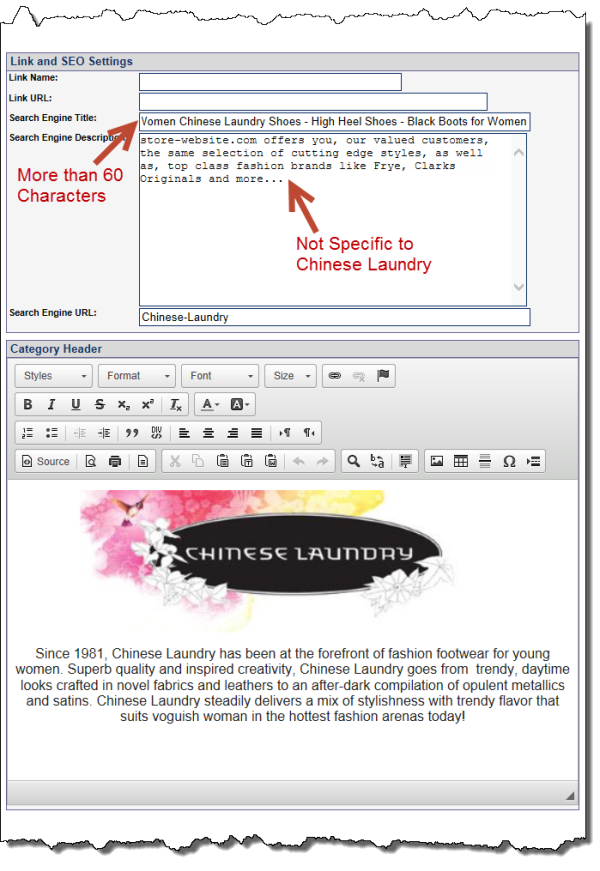 Please go back and read the help page on populating these SEO values:
The text in the Category Header is pretty good as long as it wasn't copied and pasted from another website. Remember search engines do not like duplicate content. The header itself is a little tall and I would recommend adding some tags to expand and collapse this area on the page so it doesn't impede shopping.
Please let us know if you have any more questions about the SEO on your website. Thank you.
See Also