Question
I get a lot of email from SEO companies from all over the world. Should I just pick the cheapest one to do SEO for me? Seems like any SEO is good SEO. What do you think?
Answer
We think you need to be extremely careful when picking an SEO company. Frankly there are far too many bad SEO companies and only a handful of good ones. Picking the cheapest SEO company will most likely result in some pretty poor results for your store. Worse yet, the SEO company may actually hurt your ranking with Google and even get you completely delisted from Google.
There are companies that practice what's called Black Hat SEO. Black Hat SEO is a term that is used to describe companies who use aggressive or questionable SEO techniques to try to fool Google into giving your website an artificially high search engine ranking. These companies employ all kinds of tactics such as keyword stuffing, adding invisible text to pages in your site and setting up "unnatural" inbound links to your website.
This recently happened to one our clients who was using a rather unscrupulous SEO company. Attached below is the letter they received from Google as a result.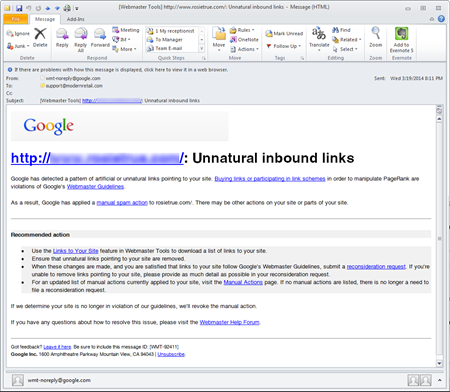 Google Letter Reprinted
Google has detected a pattern of artificial or unnatural links pointing to your site. Buying links or participating in link schemes in order to manipulate PageRank are violations of Google's Webmaster Guidelines.
As a result, Google has applied a manual spam action to rosietrue.com/. There may be other actions on your site or parts of your site.
Recommended action
Use the Links to Your Site feature in Webmaster Tools to download a list of links to your site.
Ensure that unnatural links pointing to your site are removed.
When these changes are made, and you are satisfied that links to your site follow Google's Webmaster Guidelines, submit a reconsideration request. If you're unable to remove links pointing to your site, please provide as much detail as possible in your reconsideration request.
For an updated list of manual actions currently applied to your site, visit the Manual Actions page. If no manual actions are listed, there is no longer a need to file a reconsideration request.
If we determine your site is no longer in violation of our guidelines, we'll revoke the manual action.
If you have any questions about how to resolve this issue, please visit the Webmaster Help Forum.
Conclusion
We hope this scares you just a little because it should. Picking the wrong person or company to do SEO for your store can have potentially detrimental results. Additionally, Modern Retail is happy to teach you good SEO tactics so hiring an outside firm may not even be necessary. If you need help, please let us know and we'll be happy to point you in the right direction.
See Also