Question
Hi we are interested in your Shopify Revel integration.  While I would like some general information about this integration, I also have some specific questions:
Does the integration work with refunds and/or order modifications in Shopify? How are these pushed to Revel?
Is the integration based on product SKU it description of the products?
Thank you.
Answer
Thank you for your interest in Modern Retail, we would love to help you with your Revel / Shopify integration.  Orders are not sent down to Revel until they have been shipped from Shopify (or your favorite 3rd party shipping provider like ShipStation).  This means you can do whatever you want to the order and once it's been completed (shipped) it goes down to Revel.  Returns also go down to Revel from Shopify.  Get a return and mark it as such in Shopify and it will be added back into inventory in Revel.  There's also an option in Shopify to say you don't want to add it back to inventory (i.e. because the product is damaged).  If this option is checked then the inventory does not get added back.  Yes, the SKU in Revel is used for what we call the "Integration ID" of the product.  This SKU is the "glue" the binds the product from Revel to the product in Shopify, that we create.  This SKU value from Revel is stored in the SKU field in Shopify and should never be touched because changing it in Shopify will break the integration with the product from Revel.
You can buy the Revel integration here: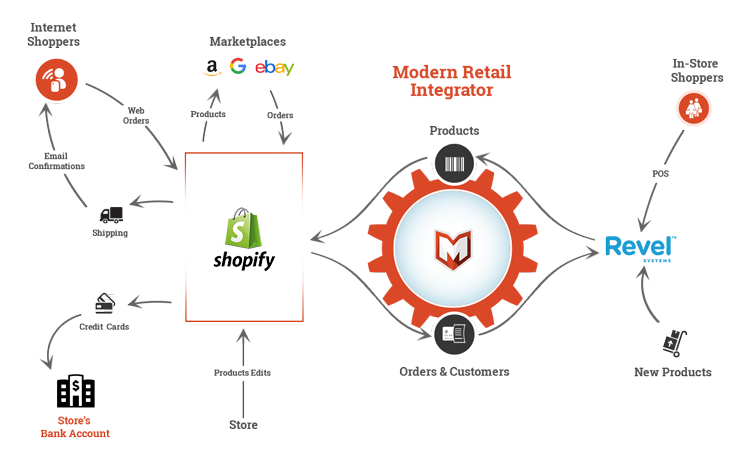 If you are interested in how we manage your integration project please read:
If you're interested in our on-going support and upgrades please read:
You'll find we're experts at POS and ERP integrations, it's something we been doing for over a decade and have amassed a great deal of knowledge and technology doing 1,300+ integrations. Here are just some of the articles that I can share with you that make us different.
Please let me know if you need anything else. Thank you.