Question
I'm interested in going an integration with Retail Express and WooCommerce.  We've asked Retail Express about how to integrate with WooCommerce and this was their reply:
Yes, the API has been specifically used for WooCommerce, however it is BYO (bring your own) development. It does require a translator to be built. We have a developer that handles a lot of the integrations for our clients, if they wish. He has built a specific translator for Retail express and WooCommerce. So it can be a much quicker turn around, and more affordable in the long run, as he is familiar with the process.  It means you will get the deepest integration.
That was from a Retail Express sales rep.
Given that they're mainly promoting Magento as their platform of choice I think it'd be best to find another POS system that's had a longer track record with WooCommerce (we really don't want to have to rebuild our website again in Magento), so if you could send us your recommendations that would be fantastic.
Answer

Thank you for your interest in Modern Retail and our WooCommerce Integrator.  Did you convey that to your Retail Express sales rep?

I always prefer to work with the POS company to see if something can be worked out.  We look at our integrations slightly different and see them more of a "connector".  We've worked very hard to make our integrations a simple connection between the POS system and the ecommerce platform.  Yes, there's a lot going on behind the scenes but from our customer's perspective it's a simple connection.  This approach means there is no development required, you simply buy the integration from us and you're done.

I also suspect our Integrator may be cheaper and more robust.  You see we only have ONE integration with WooCommerce but this one integration is being used by ALL the POS and ERP systems we support.  See:
You really do have the advantage of scale here because this one WooCommerce Integrator is being leveraged across all these systems.  You may be interested in reading how our integration technology has evolved over the years and why we think it is so amazing:
You'll find we're experts at POS and ERP integrations, it's something we been doing for over a decade and have amassed a great deal of knowledge and technology doing 1,300+ integrations.  Here are just some of the articles that I can share with you that make us different.
I suspect you're interested in how the integration works from the WooCommerce side, so please read:
You'll love our WooCommerce Integrator Dashboard, which gives you an overview of the status of your integration.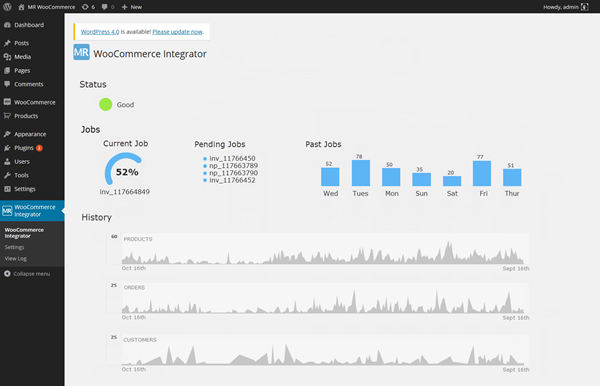 Please let me know if you need anything else or would like to jump on a call.  Thank you.