Question
I have a client that is using Retail Pro and would like to create a website.  I'm leaning towards WooCommerce or Magento as the e-commerce platform for the new site. If we go with WooCommerce, you seem like the logical choice.  However, if we decide to use Magento, both you and Retail Dimensions seem to both share the market.  I'd like to get a better sense of how your Magento Integrator stacks up against the solution offered by Retail Dimensions.  Thank you.
Answer
We've been working with Magento for years, and while we love it, only use it for our bigger clients.  Bigger to us means any retailer doing over $500,000/year in sales and has at least one full-time web resource.  WooCommerce, on the other hand, is well-suited for small to medium-sized retailers.  Additionally, WooCommerce is built on top of WordPress, which is arguably the best CMS in the world.  We really do love both and try very hard to match the right e-commerce platform to the right retailer.
Speaking of WooCommerce, you'll love our WooCommerce Integration dashboard.  Clients are always telling us how cool and useful it is, but honestly, most of them look at it for 10 minutes and then quickly forget about it (which I guess is what we want).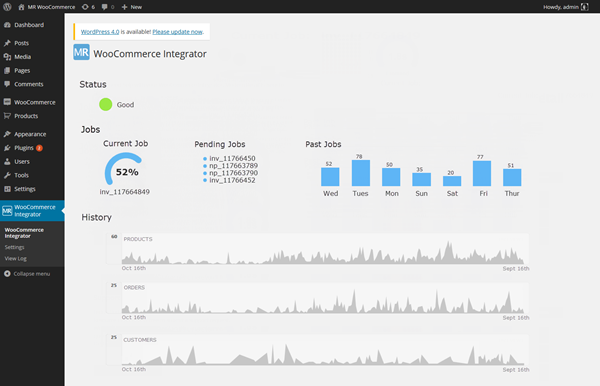 Regarding Retail Dimensions, we've known Kurt and Paul for years, and they are great guys.  I won't speak to what they do but rather some things I like about our Magento Integrator (I'll stick to Magento because I don't think Retail Dimensions has a WooCommerce integration):
Our Magento Integrator automatically creates the Simple as well as Configurable Products.
One of the things I'm most proud of, but it's extremely hard to explain, is something we call "Allocation." Our technology (middleware) keeps track of both the inventory from the POS/ERP system and the orders being placed in Magento. It is constantly accounting for all orders that are sitting in Magento, but haven't been shipped yet, and automatically adjusts the inventory in Magento. This technology has helped us to greatly reduce the possibility of overselling a product. Let me explain using an example. Let's say you have 10 Black Small T-Shirts. Let's also say you sell 3 of these Black Small T-Shirts over the weekend. Retail Pro is going to update the inventory in Magento from 10 to 9 to 8 to 7 as the items are being sold in your brick and mortar store. Let's also assume you get 3 online orders for the same t-shirt over the weekend, which you do nothing with until you arrive at the store on Monday. Our Magento Integrator is going to account for these 3 orders sitting there to be shipped and will automatically adjust the inventory for this Black Small T-Shirt to 4 (7 - 3 = 4). We do this for every item in you catalog making it very hard to oversell a product.
Our integrations do not send the orders down to Retail Pro until they are completed (shipped) in Magento. We've found this approach to work pretty well because it avoids you having to back-out items from Retail Pro that were cancelled and never shipped.  It also allows you to use third party shipping tools like ShipStation, ShipWorks, OrderCup, etc.
I also really like our Attribute Mapping feature. We can help you map attributes in our MIddleware so Magento doesn't get "clogged up" with a bunch of unnecessary attributes. For example, let's say Retail Pro has 20 different ways of calling Red, Red. Instead of creating an attribute in Magento for Red, Blush, Rose, Magenta, Rust, Brick, etc., we can map all these color variations to Red. This makes a "Shop by Color" feature on your website much more useful and can even help you out if you send your products to online marketplaces like Google Products or Amazon.
We are constantly improving our middleware and integrations, and you get these upgrades at no extra charge.
We assign a project manager and integration engineer to every project to ensure it is implemented correctly and meets your needs.
We provide on-going support as part of our monthly services to you.
We have a lot of experience with integrating POS/ERP systems with e-commerce platforms. We've been doing it for over 10 years and support 18 different POS/ERP systems and 5 e-commerce platforms. What's amazing is we're adding a new POS/ERP system every month for the foreseeable future. Pretty cool.
Of course all the standard stuff applies which you can read more about here:
I'd be happy to jump on a call if you have any questions about our Retail Pro integration with either WooCommerce or Magento.  Thank you.