Introduction

Norton recently introduced a new service called Norton Shopping Guarantee. Norton bills the service as:
Norton Shopping Guarantee is designed to increase conversion, average order value, repeat buyers and customer satisfaction. When the Norton Shopping Guarantee benefits are displayed throughout the buying process, you will help reduce shoppers' concerns about information security, product authenticity, timely delivery, and getting a good price.
Anyone who has been doing web development and marketing for awhile will, I'm sure, be immediately skeptical by anyone claiming they can increase your conversations and make your customers feel better about your products. However, after spending some time with Norton, Norton Shopping Guarantee does seems like a worthwhile service for nearly any sized retailer.
What does it do?

Norton Shopping Guarantee allows retailers to offer the following benefits to their customers:
$10,000 Identity Theft Protection
Comprehensive identity theft coverage to safeguard your customers' personal information in the event they feel their personal information has been compromised.


$1,000 Purchase Guarantee
Full 3rd party guarantee of your purchase terms of sale of up to $1,000 is provided.


$100 Lowest Price Guarantee
Gives your customers a price guarantee if you sell your products for a lower price during the guarantee period. Norton will pay the difference directly to your customers up to $100.
All these services are offered at no additional cost to your shoppers for 30 days after their purchase.
How does it work?
Implementing Norton Shopping Guarantee isn't all that difficult. All you need to do is add some JavaScript code to the pages in your website and checkout. The harder part is figuring out where you want to place their various "kickers" and what you want them to look like. A typical implementation would probably look like the following:
The Norton Shopping Guarantee shield would be added to the footer on your site letting visitors know about the benefits of the program. Hovering over the shield displays the benefits at-a-glance. Clicking on the shield takes the visitors to the Norton Shopping Guarantee website where they can learn more about the program.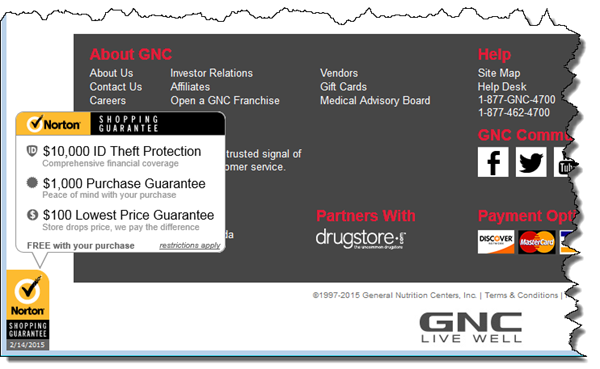 You can also display a kicker next to the "Add to Cart" button on your product page. This kicker works similar to the one in the footer, allowing consumers to get a brief synopsis of the program by simply hovering over the guarantee. Clicking on it does not take the visitor to the Norton website, which I believe is exactly what you want.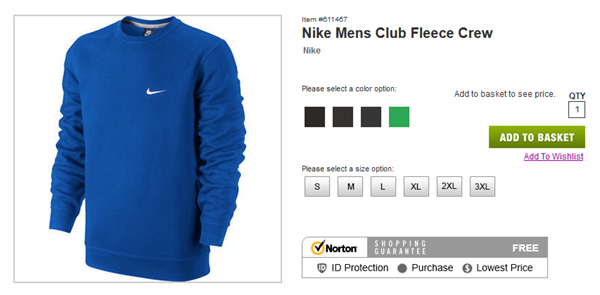 The same kicker can be added to the shopping cart page if you'd like.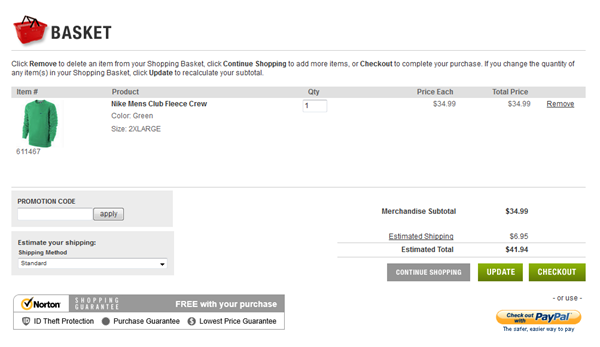 All these kickers are mobile-friendly, or what's called responsive. Visitors coming to your website on their mobile phone will see a version of the Norton kicker that is optimized for their display.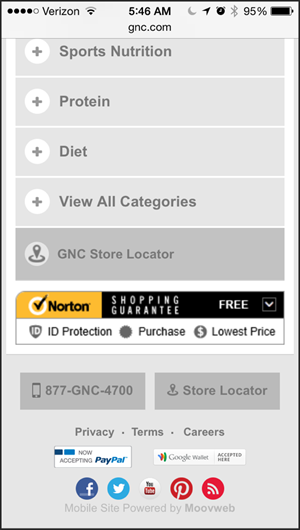 What does it cost?
Norton offers two different pricing models for the Norton Shopping Guarantee:
Emerging Markets - $49/month
If you have less than $100,000 per month in sales, then you should be in the Emerging Market program. Norton offers this program to all merchants for a flat $49 per month.
Enterprise - 0.25% of Sales
This program is for those retailers doing $100,000 or more per month in sales and costs 0.25% of their online sales.
If you do the math, you'll notice Norton's fees jump form $49 per month to $250 or more per month once you have sales of $100,000 or more. Norton will tell you they've tried to price this shopping guarantee service for all retailers but expect you to pay more once you've reached this $100,000 per month threshold. Yes, Norton will contact you after a couple of months of being over $100,000 requiring you to upgrade from Emerging Market to Enterprise.
Examples
Norton Shopping Guarantee is a fairly new service by Norton, but it is already being implemented by well-known retailers such as:
Conclusion
Given what happened in 2014 with so many retailers and businesses getting hacked and consumers' credit cards and information getting stolen, the Norton Shopping Guarantee is aptly timed and well positioned. And while $49 per month is still expensive for small retailers, I think many retailers will find it beneficial to their business.