Overview
People often ask what it takes to get a POS/ERP system integrated with their website. This article is meant to demystify this process and shed some light on what's involved in getting your website synchronized with your POS or ERP data.
Project Management Website (BaseCamp)
Every new client is set up in our project management website with a tool called BaseCamp (from 37Signals). Everyone involved in the project is set up with their own account which includes the ability to read, post messages, ask questions and follow along with the project. Oftentimes, stores will be working with other agencies, designers and developers, and they can be added as well. Finally, we also like to include one or more representatives from the POS/ERP company or Value Added Reseller.
The goal of this website is to improve communication for everyone on the team and provide an easy-to-use tool to keep track of project deliverables, to-do items and messages. Modern Retail has found this tool to be far superior than other mechanisms, like e-mail, where messages can be misplaced or left unanswered. BaseCamp creates an open and collaborative environment because everything is accessible by everyone, and all parties are included.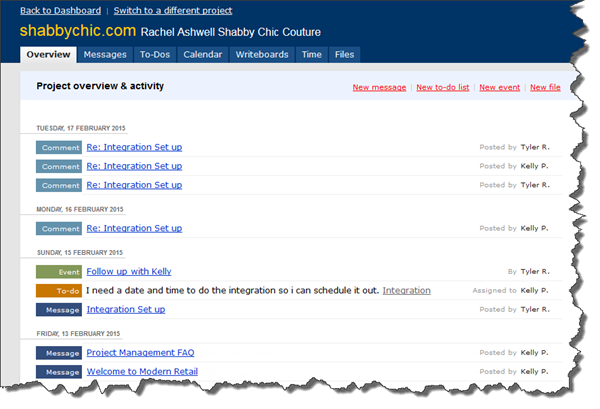 Team Members
Every integration project is assigned at least two team members from Modern Retail:
Project Manager
Integration Engineer
Engineers and developers are amazing at what they do, but let's face it, they aren't always the best communicators. That's why we assign both an engineer and project manager to every integration project. This allows the developer to do what they do best, freeing up the project manager to give the customer some personal attention and make sure the communication keeps flowing.
Installation
Installation varies from project to project based on what POS/ERP system is being used and the e-commerce platform. If an installation is required, Modern Retail is happy to perform it for you. We can also give you instructions to install yourself, using your own IT staff or agency. The decision is up to you, and we're happy to accommodate either approach.
Data Validation
What is data validation you might ask? Well, Modern Retail is going to take a look at the data coming over from your POS or ERP system before we start passing it over to your e-commerce platform. We do this because, in some very rare cases, the data coming out of the POS or ERP system can't be used. Generally, this happens when people are using the system in an unsupported way, making the data coming out of the POS or ERP system invalid or corrupt. If you are one of these rare individuals, Modern Retail will either tell you what's wrong with the data so you can work with your POS or ERP company to fix it, or we can return your setup fee. However, Modern Retail believes this is a far better approach then sending dirty data over to your website, which no one wants.
Testing
An essential step in any system integration is to make sure it actually works. Working together, we will test your POS or ERP integration to make sure products are flowing up to your website, and order and customer information is flowing down to your POS or ERP system.
Training
Most of our integrations require very little training. However, we're here to help answer any questions you may have about your integration. We want to make sure you feel comfortable and understand how everything works before turning you over to our support department.
Support
After your integration is up and running and has passed acceptance testing, you will be turned over to Modern Retail's support organization. For more information about how Modern Retail handles ongoing support and upgrades, please read:
Modern Retail has performed nearly two thousand integrations over the years, and our goal is to make this process as painless as possible on you and your business. If you should ever need anything during your integration process, please contact your project manager through BaseCamp. If your integration is already up and running and you need help, please submit a Support Request, and our team will lend you a hand. Thank you.