Introduction

WANELO is a wonderful shopping destination which both lists and sells products from your store. Listing products on WANELO is free and is as simple as "posting" them to WANELO, very similar to how you use Pinterest. In fact, I often describe WANELO to people as "Pinterest with shopping." If you're familiar with Pinterest, this hopefully gives you a good sense of what WANELO has to offer.
If you take a look at WANELO, you'll notice there's a slant towards young females. While not a hard rule, we would recommend WANELO to anyone selling goods to women in their late teens to early thirties.
Listing & Selling Products on WANELO
Admittedly, I find WANELO's terminology around how they describe their offerings a little confusing. Therefore, I'm going to use a mixture of how WANELO describes their services plus my own to see if I can explain it a little easier.
WANELO recently announced two new "tiers" to automatically include your products on WANELO. These are Tier 1 and Tier 2 below. Tier 1 is called Buy on WANELO, but I couldn't find an official name for Tier 2, so I'm going to called it Automatically Post Products on WANELO. For the last couple of years, Modern Retail has been posting their products on WANELO themselves, which I call Manually Posting Product on WANELO.

Tier 0, Manually Posting Products on WANELO

Tier 1, Buy on WANELO

Tier 2, Automatically Posting Products on WANELO

I will be explaining all three of these methods, or what WANELO calls "tiers," below.
Tier 0, Manually Posting Products on WANELO

This option is completely free for retailers, and all it takes is a little time. By adding a WANELO button on your product pages, you and your customers can save every product on your website to WANELO. The process you follow is virtually identical to how you post an image to Pinterest.
Simply click on the WANELO button on your product page.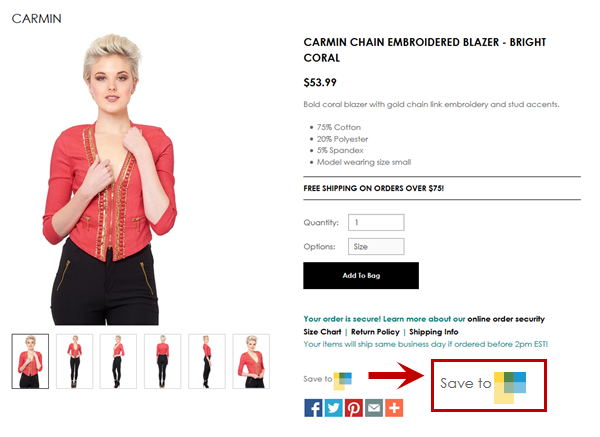 Next, you or your shoppers will be prompted to add the product to WANELO.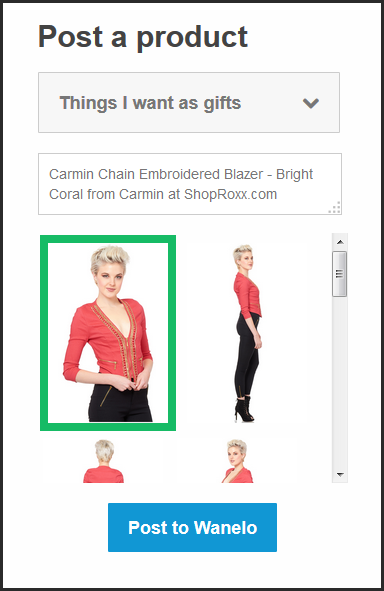 Once your products are in WANELO, you can organize them into Collections and Stories. None of this costs any money to you as a retailer other than your time.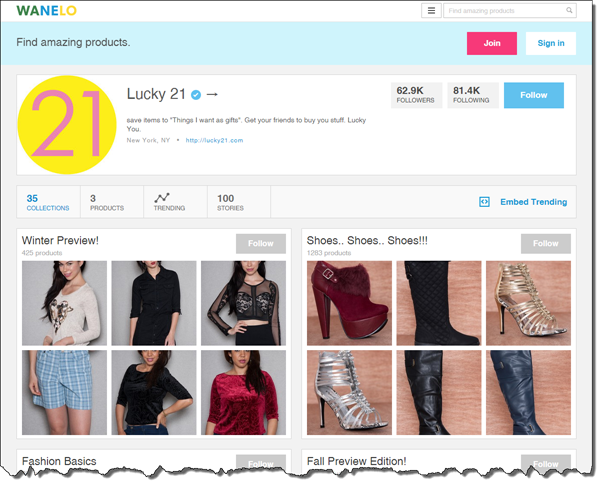 Tier 1, Buy on WANELO

If you look closely, you'll notice the Buy on WANELO button looks a little different than the typical buy button.
WANELO recently rolled out a new feature allowing consumers to place orders for the items they see in WANELO directly on their website. As of this writing, over 300 retailers have already signed up for "Buy on WANELO." WANELO lists the following requirements and benefits for this new program:
Requirements
Store sells directly through the WANELO app and website (we don't refer the customer to the store site)

Pays WANELO 10% commission via an affiliate network

Provides a variant-level (SKU/item) level product feed to WANELO, updated 1-4 times per day
Benefits
Up to 6x conversion vs WANELO referal traffic

Products given top visibility on WANELO

Is allowed multiple images per product on WANELO

Sale alerts sent to users who have saved a particular product
As noted above WANELO reports a conversion rate that is up to 6 times higher when customers can purchase directly on WANELO versus being referred to your website.

As you would expect, consumers can find and buy your products directly on WANELO.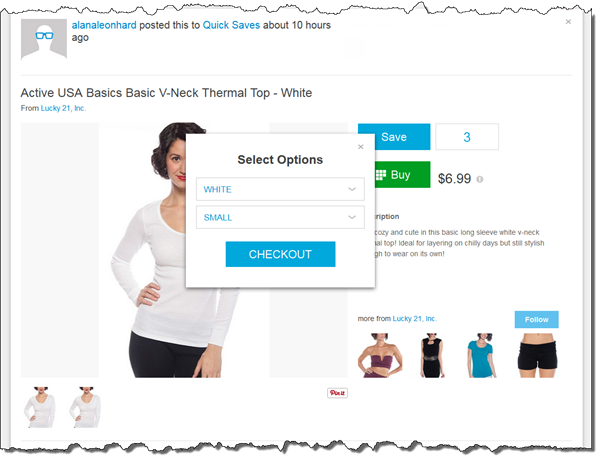 Consumers never need to leave WANELO when placing their order as Checkout is an integral part of their experience and the WANELO website.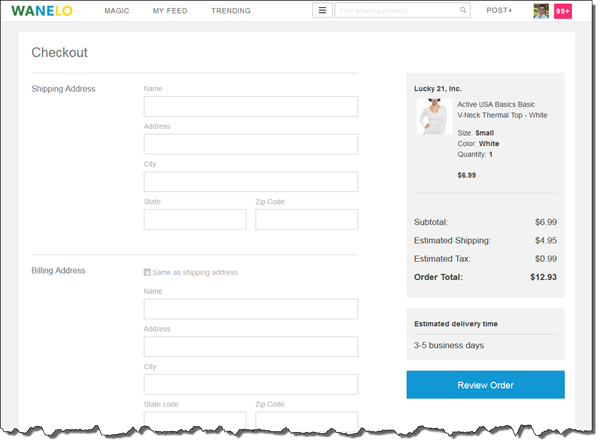 Tier 2, Automatically Posting Products on WANELO

Tier 2 is also new to WANELO but it does not allow consumers to buy products directly on WANELO. Instead, it automates what's being done in what I'm calling Tier 0, getting your products on WANELO. WANELO lists the requirements and benefits as:
Requirements
Customer is directed to the store's website

Pays Wanelo 10% commission via an affiliate networks

Provides a general product-level feed to Wanelo, updated daily
Benefits
Products are given second tier visibility on Wanelo

Sale alerts are sent to users who have saved a particular product
As you can see, Tier 2 offers some added benefits over the free Tier 0 option. The biggest, of course, is the automation of your product feed going to WANELO and the increased exposure of your products on the website.
Affiliate Networks
If you are interested in Tier 1 or Tier 2, you will need to sign up with an Affiliate Network in order to be able to send your products to WANELO. Currently, WANELO supports the following affiliate networks:
Commission Junction (CJ)
Ebay Enterprise (Pepperjam)
Linkshare
Shareasale
Impact Radius
Considerations
There's a few things you must consider when you sell you products on WANELO (verses simply listing your products, which is free):
You need to pay WANELO a 10% commission on the products you sell. This is on top of whatever you're paying to the affiliate network.
You don't acquire the customer, WANELO does. You will not get the consumer's email address or anything else for follow-up marketing.
Consumers can buy only one item at a time on WANELO so there's no chance to sell more than one product with an order.
Depending on your ecommerce platform, placing WANELO orders may be slow. Consumers place their order on WANELO, where then a WANELO employee manually places the order on your website. Sometimes it can take a couple of days for WANELO employees to place these orders, which could lead to you being unable to fulfill the order and longer delays for consumers. WANELO does have an integration with Shopify that solves some of these problems.
Conclusion
If you are already signed up with one of these networks and you cater to younger women, then Tier 1 is probably a no-brainer for you. If funds are tight, then Tier 0 is probably your best option. While I like Tier 1, I suspect people who can afford and are participating in an affiliate network will opt for Tier 1 over Tier 2.
If you have any questions about WANELO or how to take advantage of this amazing marketplace, please submit a Support Request, and we'll help you out. Thank you.