Guide to Ratings and Reviews in Search and Shopping
There are two types of ratings and reviews you will see as you use Google Shopping and Google search. The first are seller ratings, and the second are product reviews. The seller ratings are ratings of your store in general; product reviews are specific to a product.
In the image below you will see the product reviews in orange and the seller ratings in green.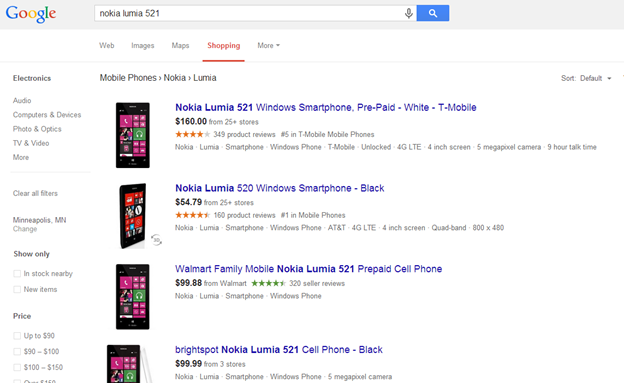 As you do different searches in Google shopping, you will notice that the overall layout of the page, and when and how the two different types of reviews are displayed. For example, the image below doesn't show any seller ratings, but does include product reviews.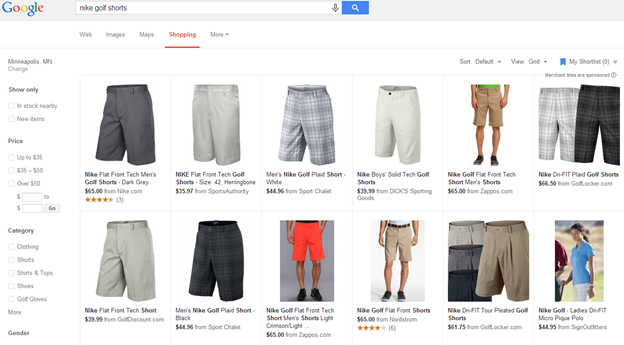 When a user clicks on a product that is listed at multiple stores Google will allow the shopper to review all of the stores that have it for sale. When they do this the seller ratings will be displayed.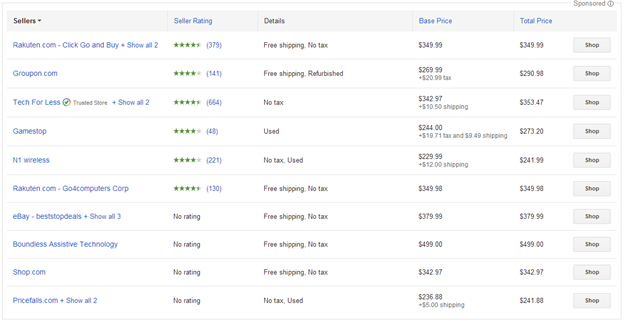 Seller ratings can be displayed along with your regular text ads as well. Google will match your domain being used in AdWords with the reviews they have for that domain, and show your seller rating with your ad in the search results.
The reviews included in the text ads will also be seller ratings and not product reviews.
Benefits of Reviews
Both product reviews and seller ratings can help improve the click-through rate of your ad or product ad. According to a Google test, ads with seller ratings had an increased click-through rate of 17%. Having the seller rating or product review next to your product ad or text ad will differentiate your listing from the rest of the listings causing the searcher to more likely click on your ad.
In addition to increasing the click-through rate, the ratings and reviews can benefit your conversion rate. A shopper who is not familiar with your store will be more likely to buy from you if they see you have a good rating. The same goes for product reviews; if the searcher sees that the product has generally good reviews, they will be more likely to buy it.
Check if you already have reviews
You can use this URL to see what your current seller rating is in Google:
Replace bestbuy.com with your domain. You will be able to see all of the reviews you have from across all the data sources Google uses for reviews, your aggregate star rating and the number of people who left a review.
Begin Showing Seller Ratings for your Store
To be eligible to show ratings next to your text ads and inside of Google Shopping, you need to meet these requirements:
Inside AdWords, the campaigns you want to be eligible to display ratings must have a campaign type of "Search network with display select," "search and display networks" or "Search network."
Typically you need at least 30 unique reviews from the past 12 months.
Have a composite star rating of 3.5.
Where Do the Seller Ratings Come From?
Google uses over 30 different sources from around the web. The complete list can be found here. Many of these sites are paid services which require a monthly payment to collect reviews. One of the major sites that is free is Bizrate.
After you setup and configure your account with one of the review data sources, you should begin accumulating reviews. However this is dependent on the traffic to your site and the number of orders you typically process. Once you have 30 unique reviews, you should begin to see your seller rating within 1-2 weeks.
Product Reviews
Unfortunately, the only source Google uses for product reviews is Bazaar Voice. You will need to subscribe to a Bazaar Voice's paid review plan in order to have product reviews displayed in Google shopping. Google has mentioned that they would like to expand product reviews to other data providers and even begin collecting them from direct submission.