Overview
Modern Retail gives you the very best support possible. Once your project is done, your project manager will turn you over to our Support Group, and will train you on how to use the Admin Panel. The Admin Panel is your one-stop for all things related to the services you get from Modern Retail, as well as being your go-to tool to submit support requests. We're always here to help if you need something!
Support Access
Accessing the Admin Panel and getting access to support is easy. For your convenience, there are a few ways to get access to the Admin Panel.
Modern Retail Website
One of the easiest things to do is to simply go to www.modernretail.com and click on LOGIN & SUPPORT in the header. Alternatively, you can click on Admin Panel, or Submit a Support Request in the footer.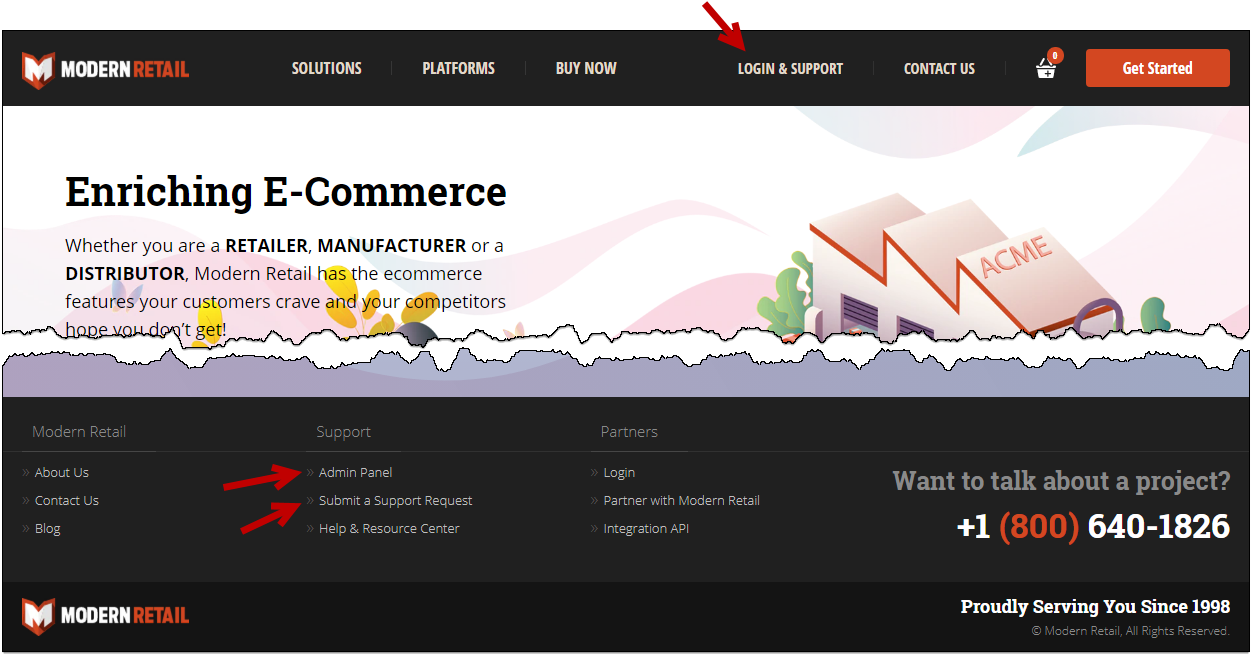 Admin Panel Website Address
You can also go directly to the Admin Panel by going to the following website:
Entering Support Requests
Submitting a support request is easy once you've logged into the Admin Panel. Simply click on New Request on the Dashboard.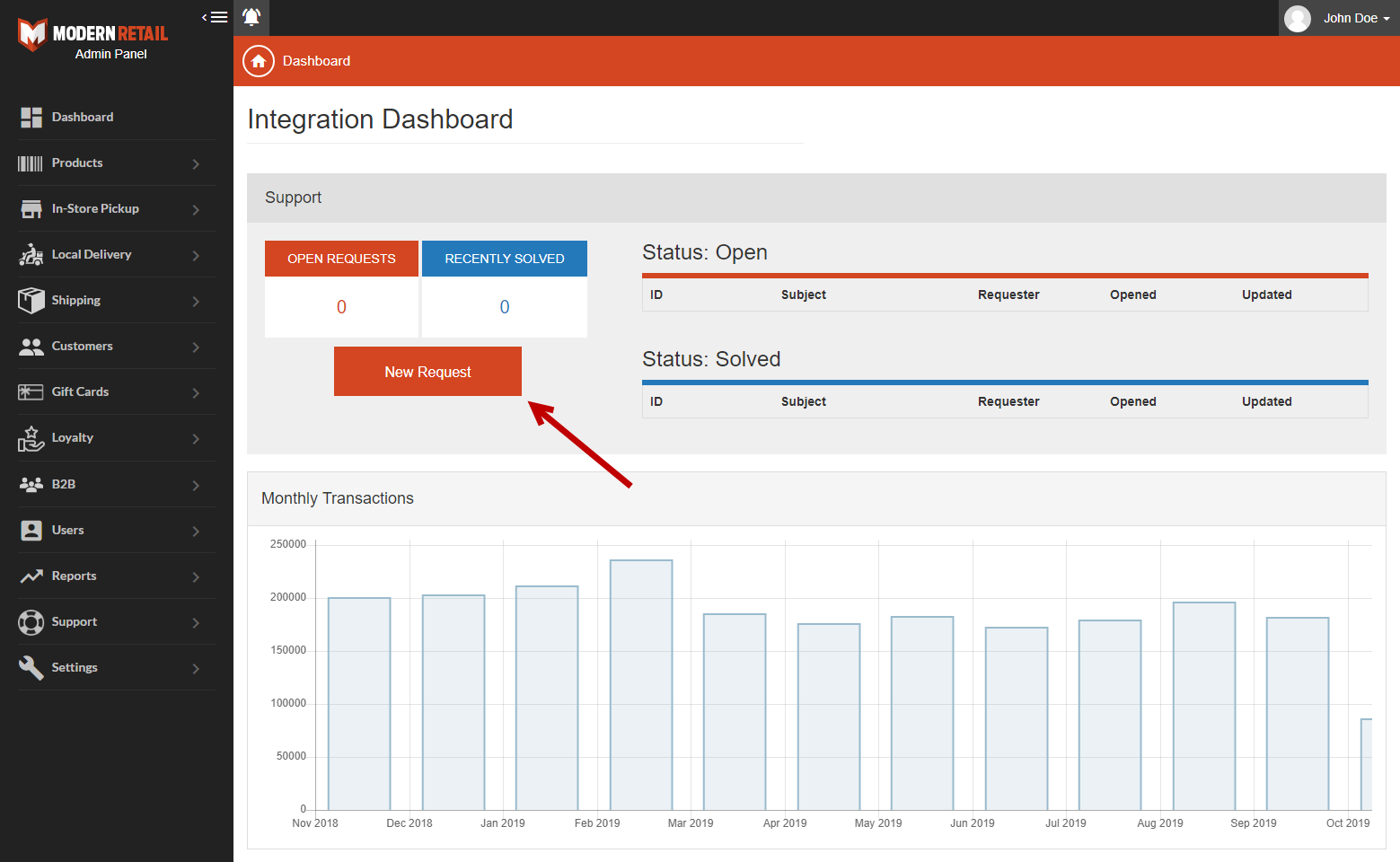 Entering a New Request is also easy! Simply:
Enter a Subject for your request.
Explain your problem or question in the Description.
Upload Files if you have screenshots or other useful information that you think will be helpful.
Check off anyone else you'd like to be included on the ticket.
Click SAVE.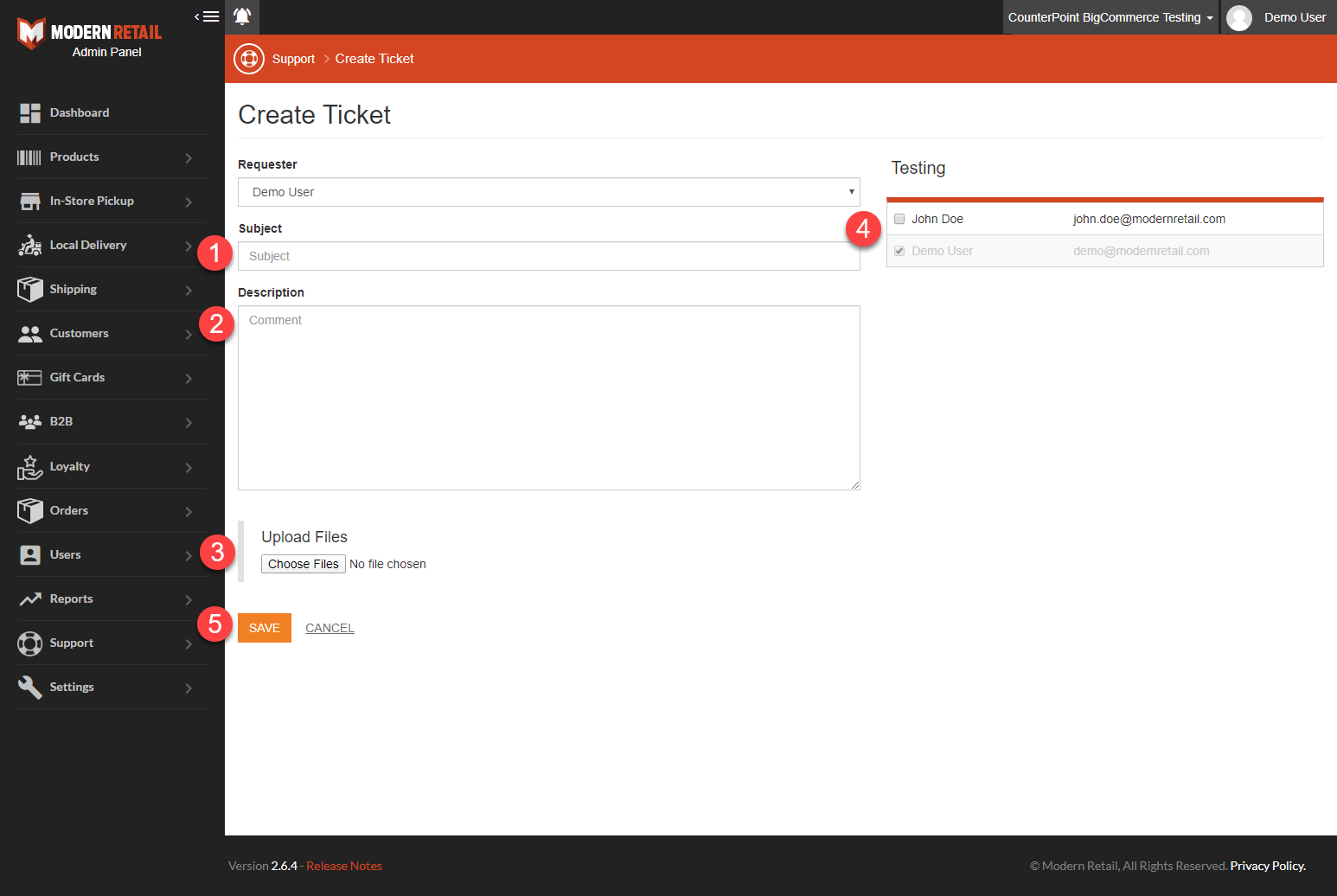 Support Requests for Everything!
Support requests are used to track everything! Whether you have an issue, need to ask a question, have a billing question, or would like to add additional services, everything starts by submitting a ticket!
Additional Notes
Here are some additional notes about submitting support requests and the Modern Retail support process.
Resolution: Modern Retail Support will make every effort to answer your support request in a timely manner. Unless indicated otherwise, we try to answer all requests according to our Service Level Agreement.
Duplication: Please try to avoid creating duplicate requests for the same item. To avoid confusion, all conversation must stay on the same support request.
Escalation: If it becomes necessary to escalate a support request, please create a second request, state your concerns and reference the primary support request number. For more information please read Escalating Support Requests.
Enhancements: Have an idea for your site or Modern Retail in general? Submit a support request. We want to hear about it!
Following the above process will ensure your questions and items get answered in a timely manner. We're here to help you grow your business, so please don't hesitate to submit a support request if you ever need assistance with something!