Overview
After your website/integration goes live, the Support Group will help you with your website and integration question or issues.  This group can handle all aspects related to your website from answering questions to making changes to your site.  The primary way to interact with the support group is by creating Support Requests.
Support Requests for Everything!

Support requests are used to track everything related to your website or integration.  Whether you have an issue, need to ask a question, would like to make a change to your website, have a problem with your integration or need help with marketing, everything starts by submitting a support request.
Support Requests
Modern Retail's Help & Resource Center has a lot of valuable information regarding your website, integration, marketing and pretty much almost anything else you may want.  In addition, it also allows you to submit support requests. To submit a support request:
Click on Submit a request in upper-right corner.

You may need to Sign In if you haven't submitted a Support Request in awhile, if you're using a different browser, or have never entered a request with Modern Retail.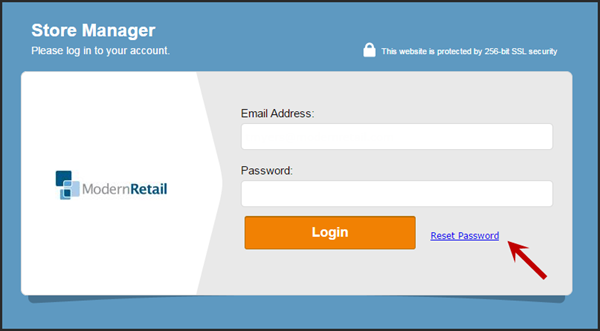 For security reasons, you must have a valid login to submit a Support Request for your store.  Please enter your e-mail address and password when prompted.  If you've forgotten your password, click on Reset Password and we'll help you reset it.  If you're having trouble, we ask that you contact the account owner at your store to make sure they've set you up to get support from Modern Retail.  Without their approval and a valid Store Manager account, you cannot submit a request on their behalf.
Enter Support Request
When entering a Support Request, enter a Subject and detailed Description of your problem.  Please provide as much detail about your problem and include screen shots and videos whenever possible.  If you need to send us files or images, they can be uploaded by clicking on the Add file link.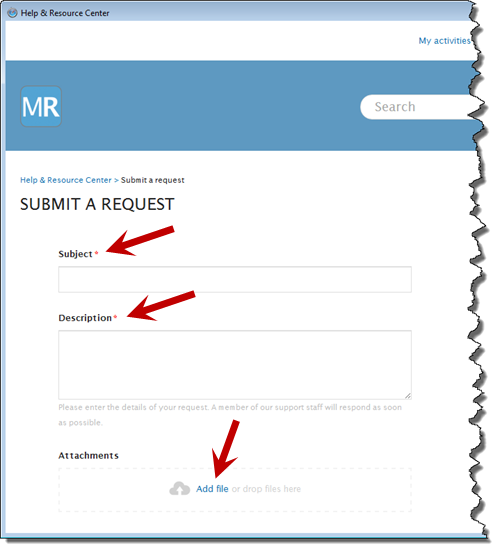 Additional Notes
Here are some additional notes about submitting support requests and the Modern Retail support process.
Resolution: Modern Retail Support will make every effort to answer your support request in a timely manner.  Unless indicated otherwise, most support requests will be answered and closed within 5 business days.  Of course, enhancements and changes to your website could take longer.
Duplication: Please try to avoid creating duplicate requests for the same item.  To avoid confusion, all conversation must stay on the same support request.
Escalation:  If it becomes necessary to escalate a support request, please create a second request, state your concerns and reference the primary support request number.
Enhancements:  Have an idea for your site or Modern Retail in general?  Submit a support request. We want to hear about it!
Following the above process will ensure your questions and items get answered in a timely manner.  We're here to help you grow your business, so please don't hesitate to submit a support request if you ever need assistance with something.  Thank you.