Question
The mailer I just sent went into mine and my husband's spam directory. How can I be sure messages I send don't get dropped into people's junk mail directories?
Answer
We try to make the mailer templates as simplistic as possible using very conservative HTML so it makes it through as many spam filters as possible. There are a couple of things that can really make a difference which you have control over and that's the Subject and Body of the message. You want your Subject line to be very simple and never use stuff like a exclamation point, percent sign, etc. I probably would not include your domain name in the Subject line either and would use capitalization (just not ALL CAPS). You can use these in the body of the message as long as they aren't excessive.
One thing you can do is build your mailer and send yourself test messages to make sure they aren't caught by your email program's spam filter. I noticed a Test Mailer in your site and so I sent myself a test message only to find that it caught by Outlook 2007's spam filter. I then proceeded to delete the following lines:
now accepting online purchases!

We now have all of our products online!

We are currently offering free ground shipping for purchases of $75 or more to anywhere in the US!
I then sent it again and it went through. What blocked it as spam is sort of a mystery but I suspect it was the combination of the exclamation points and possibly the listing of your domain name in the Subject line. You can keep on adjusting and changing these items until it doesn't get blocked.
Date Created; 09/10/2009
Question
I sent a test mailer from Store Manager but it got dumped into my spam folder. Why?
Answer
The Subject of your messages includes a apostrophe and a percent sign. These together in the Subject line may be enough to mark this message as SPAM. Please try replacing one of both of these symbols and send yourself another test message. Repeat this process with content in the Body of your message until it no longer goes into your SPAM folder.
Date Created: 11/18/2009
Question
Hello, In the process of creating an electronic mailing, I attempted to send test emails to a few email addresses to proof the mailing before sending it out. Three out of the four addresses I used, never received the test email. Is there some reason this is happening, it is very beneficial to be able to send tests to a variety of addresses to test before sending.
Answer
I believe it is a combination of two things causing your mailer to be sent to SPAM.
The Subject of the mailer may need to be simplified and some of the promotional text may need to be removed. Unfortunately the anti-spam engine built into people's email software may block it as SPAM:



30% OFF Everything Sale, Use "Fall30" at checkout.

The Body of your message does not include enough real text. Instead of using one big image, with the text baked into the image, you need to break it up and include some real text in the body of the message. SPAM engines do not like messages that don't have text in the Body of the message.


| | |
| --- | --- |
| | Try making adjustments to your mailer and sending yourself test messages until the mailer goes through successfully and doesn't get marked as SPAM. You may want to try this with several email accounts on different mail systems because every system handles SPAM differently. |
Date Created: 01/11/2010
Question
I did a test run for our mailer this week and it keeps hitting the spam box. I even added the address to my contacts list and it still hits my spam box. Please let me know if there is something that I am doing something wrong.
Answer
In looking at your mailer I see really two main issues that increase the likelihood of this mailer being blocked as SPAM:
No Text in Mailer

Modern Retail highly recommends including a paragraph of text in every mailer. Including this text not only increases your changes of you messages making it through the various SPAM engines but it also gives the user a nice description of your message when viewing on mobile devices such as iPhones.


Images Coming from Photo Bucket

Modern Retail recommends that you never include images in your mailer that don't come from your store's domain (e.g. www.store-name.com). Including images from 3rd party source will not only increase your chances of your messages being blocked as SPAM but these 3rd party websites may eventually delete your images causing your images to be broken in your mailers. Whereas if they are uploaded and part of your website, they will never be deleted.
Date Created: 10/26/2012
Question
Apparently our last e-mail blast ended up in a lot of spam boxes. This is a small sampling-our employees-who are concerned. Any reason that this would suddenly happen?
Answer
The Subject of your message looks a little SPAM-ish. Meaning, it included things like two exclamation points, quotes, percentage sign and parentheses. All these things can add up and tell anti-spam software that the email you are sending is SPAM.
For future mailings I recommend that you update your Subject line to exclude some of these superlatives. I would also recommend that you send yourself a test message to make sure it doesn't get dumped into your spam folder.
Date Created: 11/08/2013
Question
The mailer I sent went into my Gmail spam folder. Is there anything you can do?
Answer
Looking at your mailer it really don't have much content at all. I would recommend adding a couple sentences of text at the bottom of the mailer to get it past Google and other spam engines.

I would also recommend resizing the images that you upload in your mailer. You may even consider a layout that puts the images next to each other in columns and rows. A lot of SPAM engines factor in what's included in the mailer and large images can contribute to a higher SPAM score. Here's an alternate look you might like: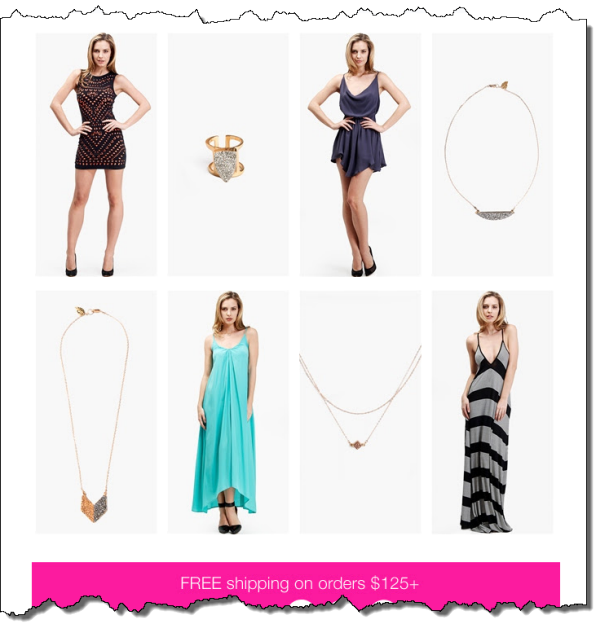 Please let us know if you continue to have problems with messages going into SPAM. Thank you.
Date Created: 01/17/2014