Overview
Modern Retail's newest innovation in ecommerce is our Onboarding Center. New clients may have the option of using the Onboarding Center to complete the onboarding process for their project. Currently this option is currently only available for certain types of projects, but we're working on expanding it to our full suite of ecommerce features. This article will give you a brief tutorial of our onboarding center, so we can all get started on your project as soon as possible.
Getting in to the Onboarding Center
After purchasing an integration from Modern Retail, the email account associated with your purchase should receive an email inviting you to create an account. Once you've set up your account, logging in with those credentials on admin.modernretail.com will bring you straight to the onboarding center. You can access the onboarding center by logging in with those credentials for as long as it takes your project to be completed.
People
The first screen you'll be greeted with is the "People" page. This is where you can enter the information for any of your employees or 3rd-Party contractors who'll be working on your integration project. Your own information should automatically be entered in the top set of text boxes, but please be sure to review it just in case.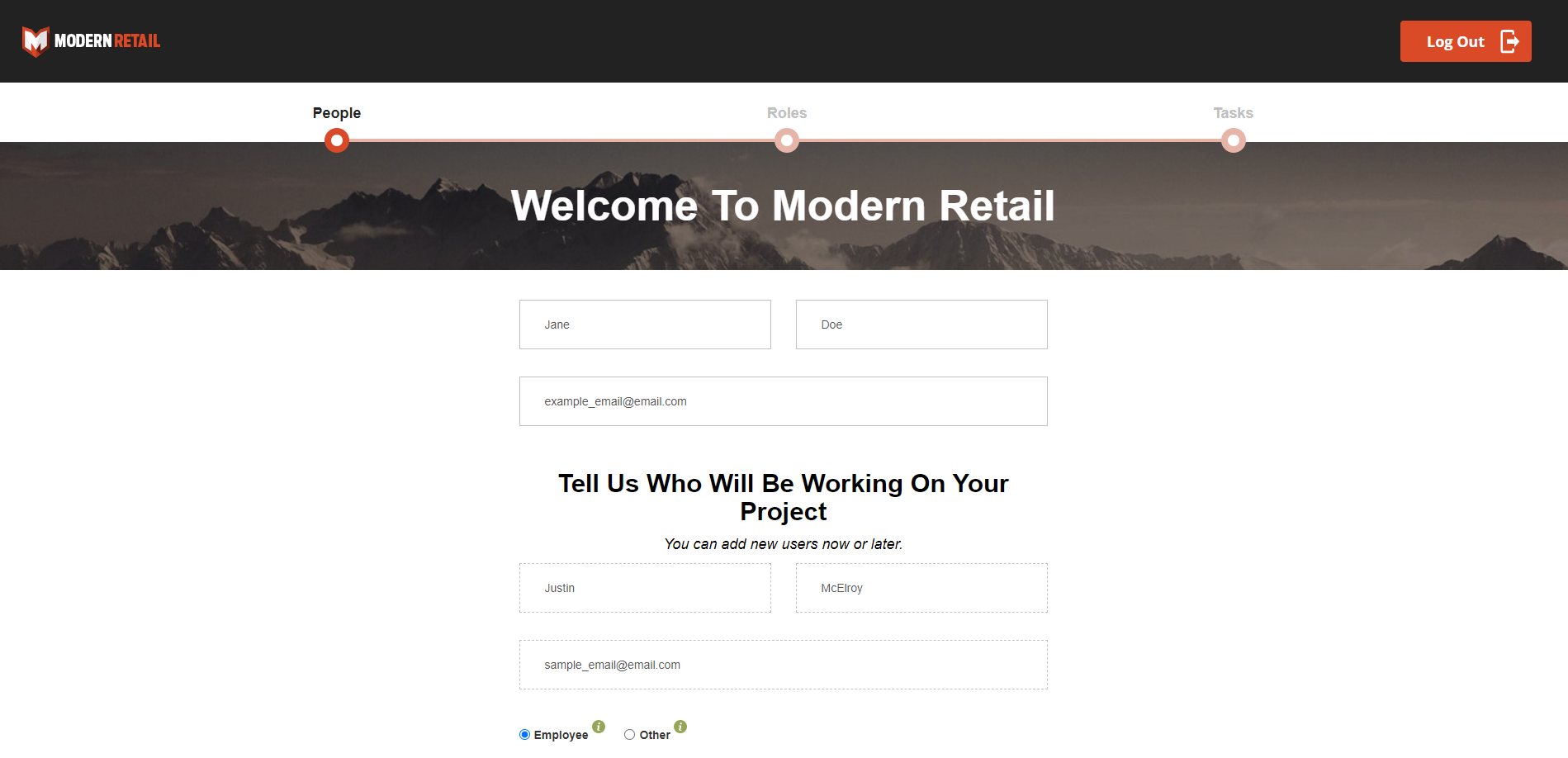 In order to add employees, select the Add More button located to the left of the Next button, and fill out that employee's first name, last name, and email address. If the person you're adding is one of your employees, select Employee underneath their email address. If they're not an employee, but a 3rd-Party Contractor or something similar, select Other instead. Be sure to correctly enter their full email address!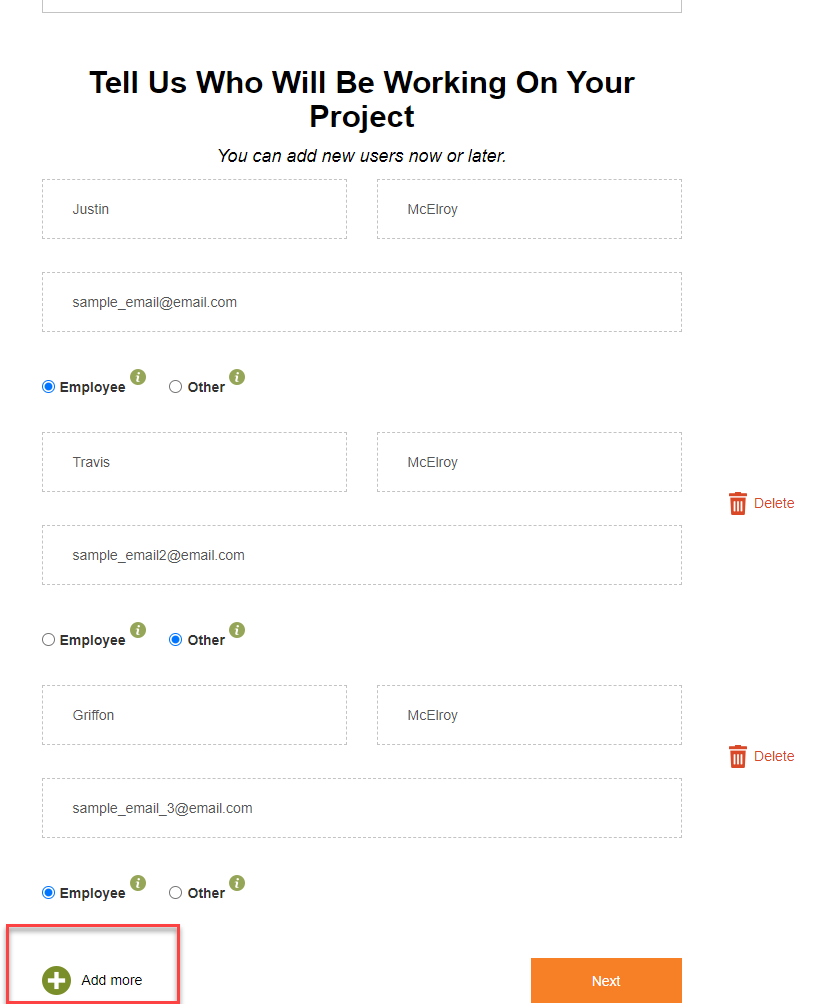 When you're done, hit the Next button. Remember, you can always go back and add more users later if need be.
Roles
The next page you'll want to look at is the "Roles" page. This is where you can assign roles to any of the people you added in the previous page, as well as send & re-send invites for those users to access the back-end for your integration.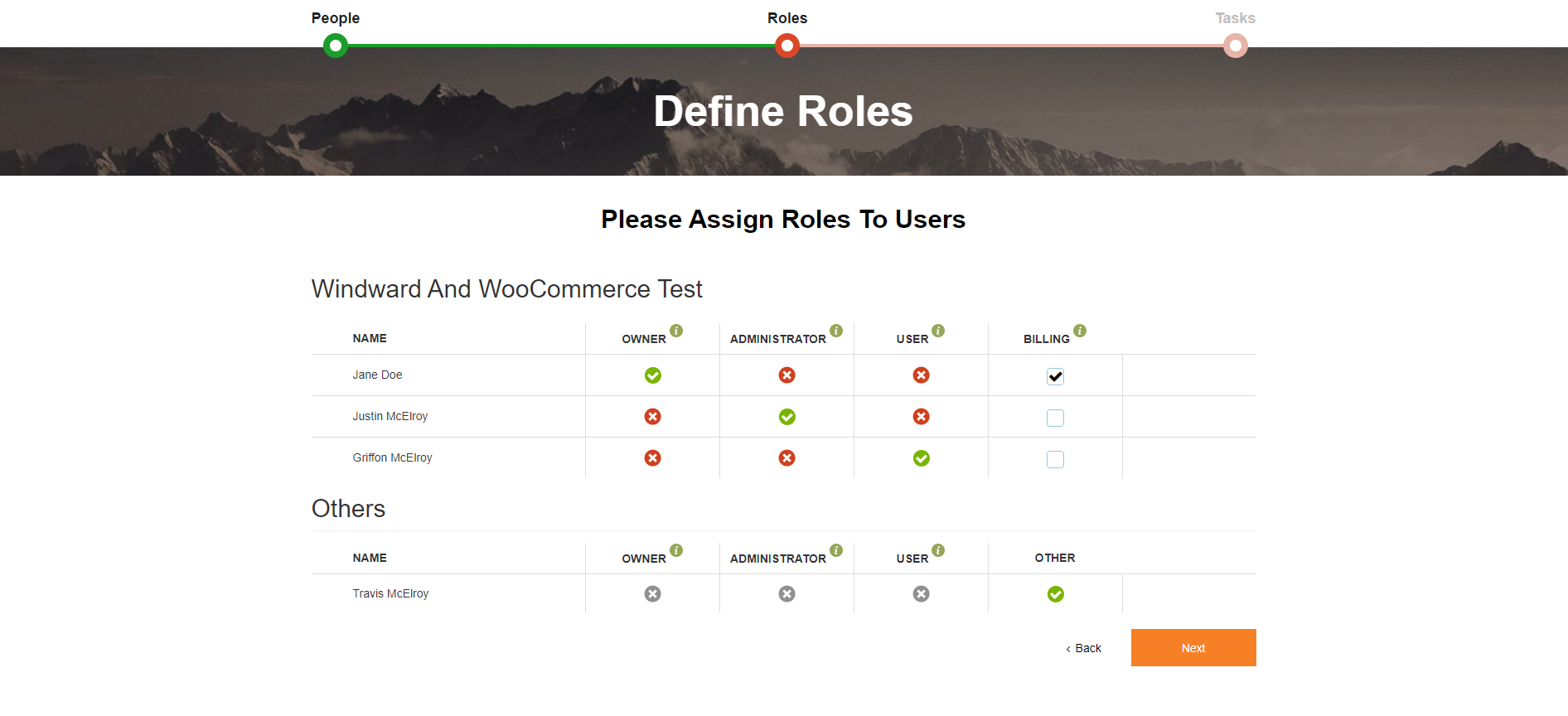 This screen may seem complicated, but it's really quite simple! There are three potential roles to pick for each employee, while anyone marked as Other will automatically be given the Other role.
The Owner role has all potential privileges for control over your project. Once your integration is complete, the owner can add or remove any of the ecommerce services Modern Retail offers; owners can also add or remove users of any level. We recommend only the owner of your business be given this role.
The Administrator role functions in much the same way; once the project is complete, they can add or remove services & users. The difference between owners and administrators lies in what kind of users they can add or remove; owners can add or remove any type of user, including administrators, while administrators can only add or remove users lower on the totem pole than them, so to speak. We recommend assigning the administrator role to the employee(s) you wish to leave in charge of the ecommerce side of your business.
The User role has access to your integration backend, but cannot add or remove services or other users. The User role should be given to any other employees you want to have access to the backend for your integration once your project is complete.
Please note that once your project is complete, you'll be able to modify the permissions each of these users has, as well as add or remove new users.
The Billing checkbox on the right controls who receives billing invoices for your integration project in their listed email address.
Once you're done assigning roles, hit the Next button in the bottom left. This will send an invite to each of the users on this list, using the email account associated with that user. You can return to this page later to check on which invites have been accepted, re-send invites, or to assign roles to new users you've added.
Tasks
The tasks page is where you'll spend most of your time in the onboarding center. Here we have an organized list of all the tasks involved with your integration project, split between tasks relating to your POS/ERP system and tasks related to your ecommerce platform.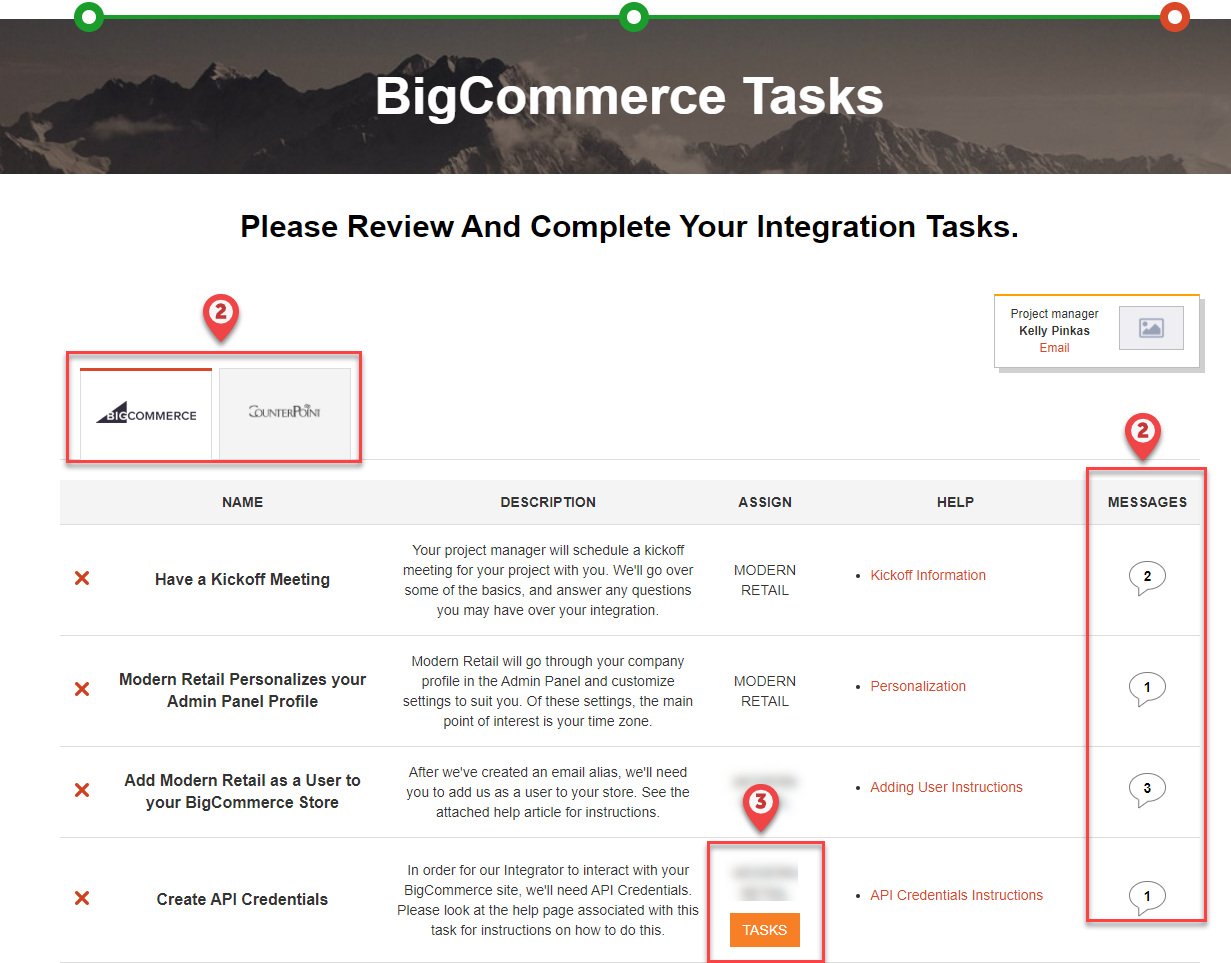 This screen will look slightly different depending on which POS/ERP System & which ecommerce platform you use, but the general structure will be the same regardless. As you can see, it's a list of tasks; you can see an indicator on the left showing whether a task is complete or not. Let's go over the different essential elements:
1. In the top left you can see a tab for your ecommerce platform (here BigCommerce) and your POS system (here CounterPoint). The notification over BigCommerce indicates how many unread messages you have on the tasks on that list.
2. The rightmost column is where you can send and receive messages relating to any task. The number inside the message bubble shows how many total messages are on that task, while the smaller red number outside the bubble indicates unread messages. Clicking on the message bubble will show you the "thread" for that task: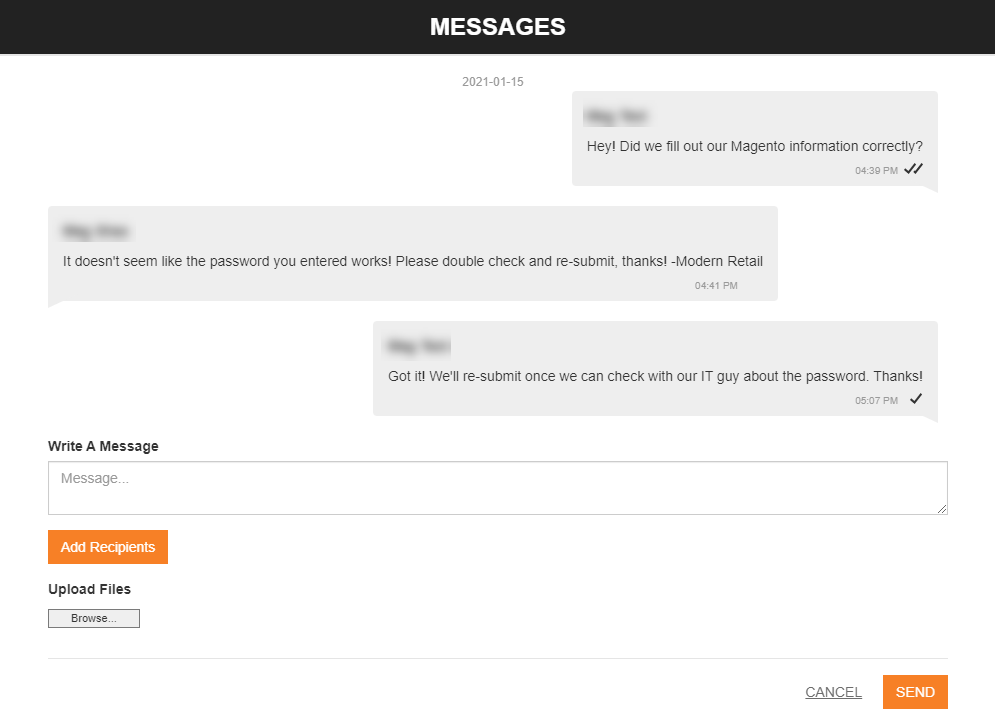 You can write your message in Write A Message textbox, and then hit Send to send the message. The Upload Files option lets you upload photos or videos, to help provide clarity if you're having an issue. The Add Recipients button lets you choose which of your employees you want to be notified when you send a message (by default your Modern Retail project manager will always be notified of new messages).
3. The Tasks button exists on any task we need you to fill something out for. Once you get to the tasks page, we recommend checking every task with a button to see what information you can fill out; doing this promptly will help speed up your project.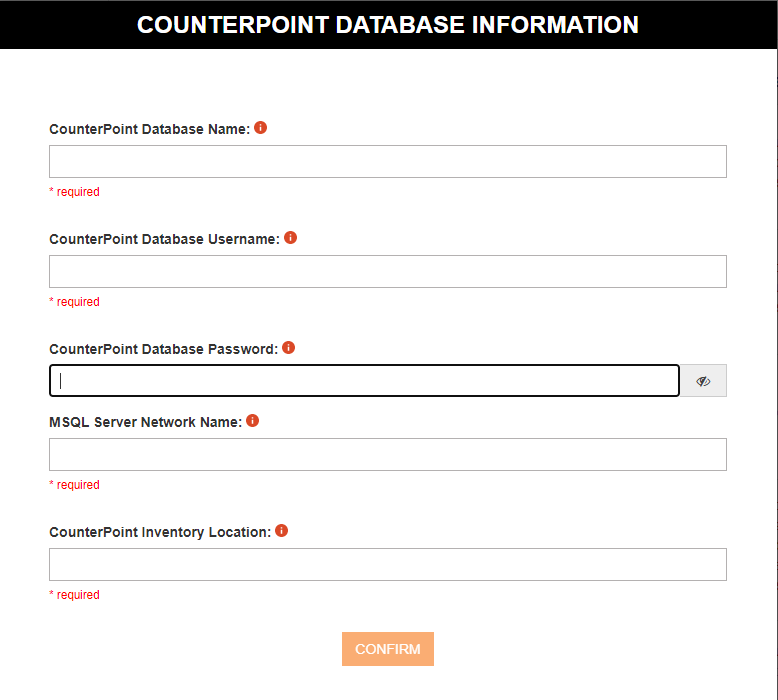 Once you've filled all the required fields out and hit Confirm, this information will be securely transmitted to Modern Retail, and the task will be marked as complete. If something is filled out incorrectly, we may mark the task as incomplete again and notify you of what the problem is.
Thank you for choosing Modern Retail for your ecommerce integration experience! Please feel free to get in touch with your Project Manager if you have any additional questions.