Overview
Modern Retail's Gift Card integration feature gives you a variety of options for viewing and controlling your gift cards. The vast majority of actions you may want to take regarding existing gift cards can be performed in the Gift Cards section of the Modern Retail Admin Panel, however when it comes to altering the amount on an existing gift card, or voiding an existing gift card, those actions should instead be performed in Counterpoint. This article will explain how & why you should void or alter gift cards in Counterpoint.
Altering or Voiding Gift Cards
With our Counterpoint gift card integration feature, you can void or alter any gift card you've sold directly in Counterpoint. Any changes you make from Counterpoint will be carried over to the Middleware, and be visible in the Admin Panel, so you don't need to worry about your information staying up to date. This way you can quickly void or alter any gift cards you need to without worrying about an effect on your system at large.
You can view gift cards in Counterpoint in the following Home>System>Gift Cards menu.

From there, you can either alter the amount on an existing gift card, or void it entirely. Voiding a gift card will make it unusable for whoever has it, so be careful with this option. You can double check to make sure you're viewing the right gift card from the Modern Retail Admin Panel; for more information on how to do this, look here.
It's important to note that you specifically do not want to delete gift cards. Instead, you should change the value, or void them. If you delete the gift card in Counterpoint, it will still exist in the Admin Panel. Voiding or altering the gift card instead will produce the desired effect across all platforms.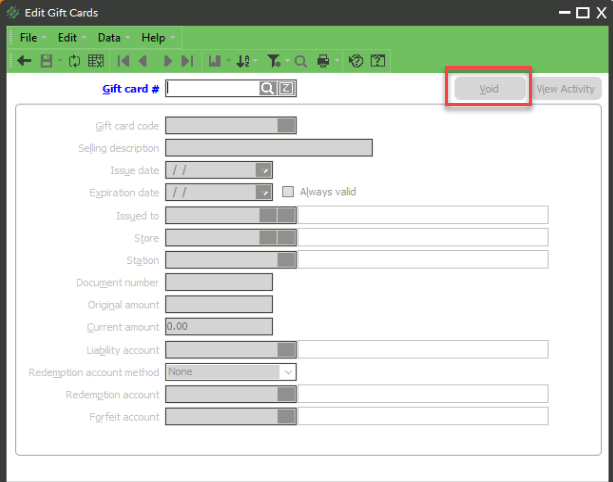 If you have any additional questions on this, or any other topic, please feel free to get in touch with us with a support request.