September 21, 2020
On September 21st, roughly around 5PM CDT, the Modern Retail Admin Panel went down for roughly 2 hours. No data was lost during this outage, and all integrations proceeded as normal, however we recognize that this may have been an inconvenience for users of certain features.
This outage was due to some planned maintenance which upgraded VMware to ESXi 6.5, a necessary technical upgrade performed by Rackspace, our hosting partner. Rackspace notified us of this mandatory upgrade on September 4th. As you can see in the highlighted section from their notice below, it was understood that this upgrade was going to have no effect on our infrastructure. With this in mind, we decided to proceed with the upgrade.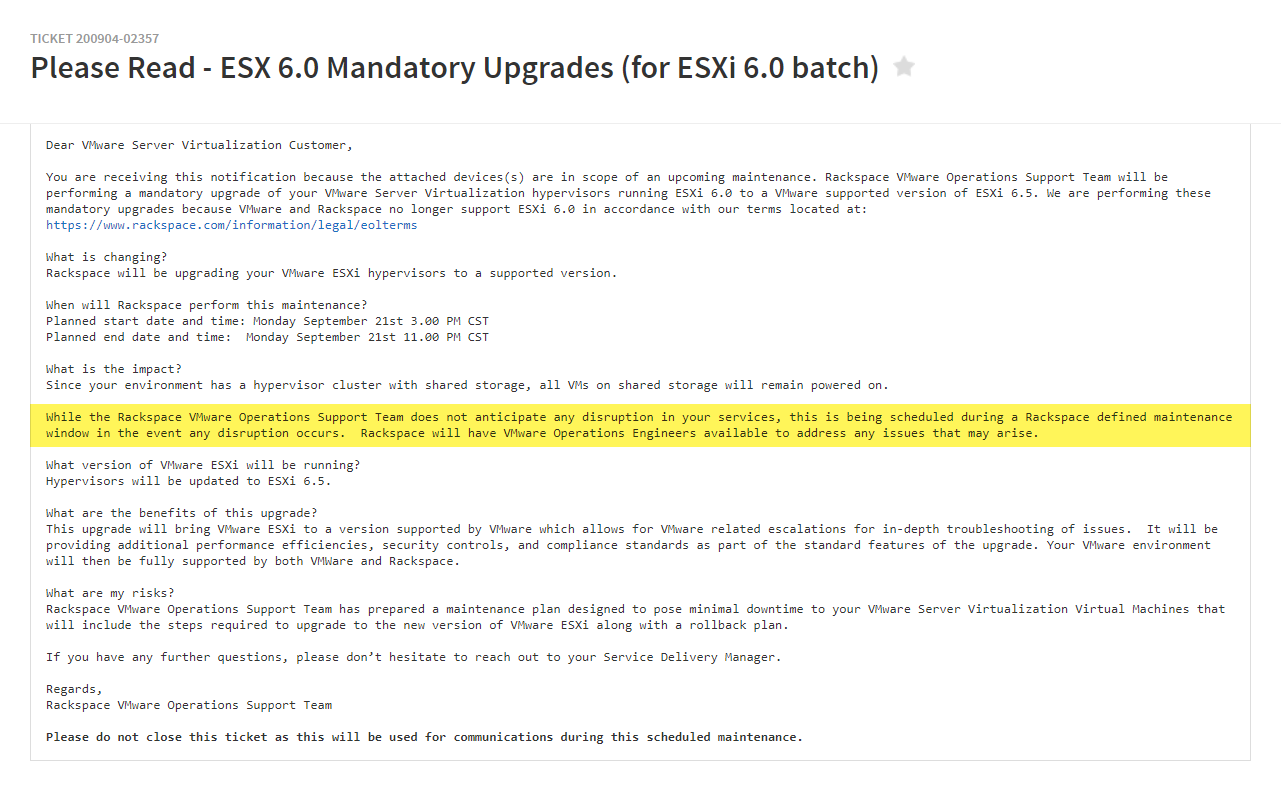 Initially, the upgrade went as planned with no ill effects. However, around 5 pm CDT we noticed people were having trouble logging into the Admin Panel. We immediately contacted Rackspace in order to rectify the situation. They performed a server-side fix, resolving the issue.
In the aftermath, we immediately went into analysis mode, coordinating both internally and with Rackspace to get a better understanding of what happened. With Rackspace's assistance, we quickly came to the conclusion stated above, that the VMware upgrade was the likely cause of the unintended downtime. Perhaps more importantly, we have also determined that the problem is unlikely to reoccur, as the upgrade has been successfully completed.
Modern Retail works hard to quickly resolve any incidences of unintended downtime. We apologize for any difficulty or inconvenience that may have occurred as a result of this outage.