Overview
Curbside & In-Store Pickup is an increasingly popular feature that customers have come to expect in the ecommerce marketplace. Modern Retail is proud to offer our Curbside & In-Store Pickup feature for Epicor Eagle integrations. This article will briefly cover what this feature does for Epicor Eagle projects.

Curbside & In-Store Pickup
Curbside & In-Store Pickup is exactly what it sounds like! We offer the ability for your customers to select "Curbside or In-Store Pickup" as a shipping option, so they can pick their order up rather than have it delivered to them. Not only does this potentially lessen the load on you, not having to worry about shipping, it also allows the customer greater choice for how they receive their order.
How Does it Work?
Curbside & In-Store Pickup orders are managed through the Modern Retail Admin Panel. You'll be able to assign a role to your Admin Panel users granting them access to the in-store pickup page, where they'll be able to view incoming orders and mark them as "Processing", "Complete", etc.

You can also sort through all your in-store pickup orders to either only see incomplete orders, or to find a specific order you may need to look up.
Additionally, you can view individual orders for more details, like in the below example: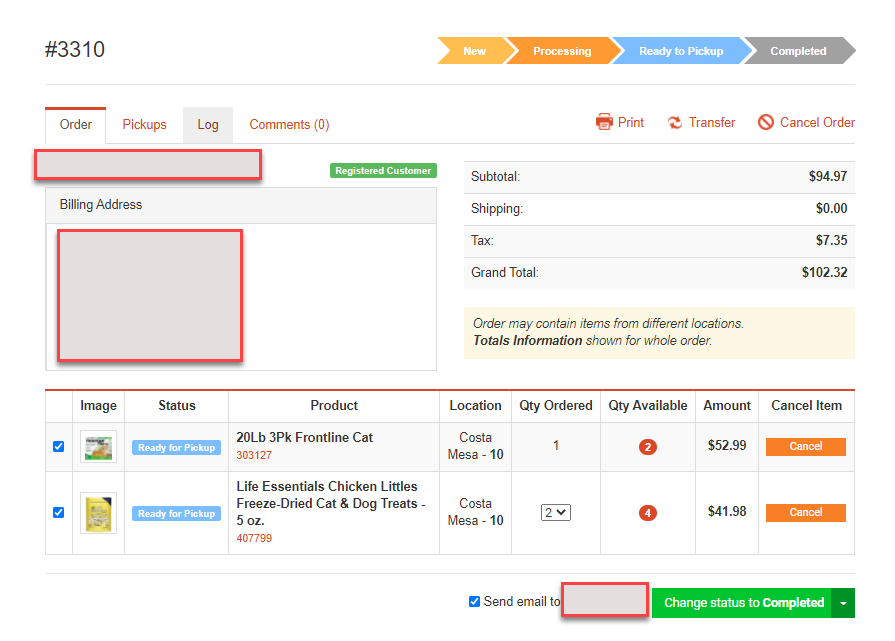 You can print out an invoice for the order, cancel it, or transfer it. You can also leave comments on individual orders, both public messages that will reach the customer, or private comments only your staff can see. We also offer the ability to email the customer whenever an order status is changed, so you can do what works best for your business.
Additionally, our groundbreaking "Rules" system allows for a great deal of flexibility for businesses with multiple locations. You can enable or disable In-Store Pickup for different products, different locations, or a mix of both.
Modern Retail is proud to offer this & other features for our Epicor Eagle integrations. We'll work to enable this feature for your Epicor Eagle POS system, so you can support your customers however you need to.