Overview
During the initial setup of our Integrator, we'll ask you for a whole host of information about your Counterpoint installation. While we recommend that you get in touch with your Counterpoint reseller to assist in filling this information out, this article will have some tips about how to fill things out quickly, so we can get things rolling as soon as possible.
Unique Counterpoint IDs
The third task for the Counterpoint onboarding process is to fill out the unique Counterpoint IDs. The primary effect of this is changing how data coming from the web store is represented in Counterpoint.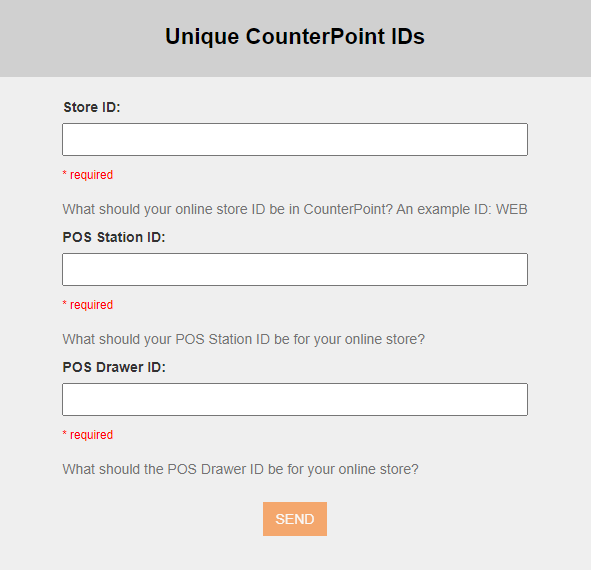 Only three fields to fill out this time! All three of these fields are things you're creating when you fill them out; they're not pre-existing information.
The first field asks what you want your Store ID to be. This ID is what your online web store will be referred to as in Counterpoint; many people like to use the example ID "WEB" for this reason. The POS Station ID and POS Drawer ID both reflect how the web store will be shown in Counterpoint (specifically the station & drawer fields). These should all be easily identifiable as coming from your Online store, and separate from any similar ID used for your physical locations. If you want, you could use "WEB" for all three, or use a different ID for each.
Hit the Send button when you're done filling out these fields.
If you have any further questions, please feel free to get in touch with your Project Manager using the messaging feature in the Onboarding Center.