Overview
People are always asking us if we like Shopify better as an ecommerce platform, or if we prefer BigCommerce. Frankly, we like both platforms a lot! However, there are some differences, especially when it comes to integrating Shopify or BigCommerce with Epicor Eagle.
Shopify vs BigCommerce
I have to admit answering the question of whether Shopify or BigCommerce is better is kind of like asking a parent which kid they like better! The only possible way of answering this question is to attack it from the retailer's perspective, based on what I've heard from them over the years.
Credit Card Processing
Credit card processing is the single most hated feature in Shopify if you're a retailer, manufacturer or distributor. Why? Because while Shopify doesn't force you to use them as your credit card processor, they also make it disadvantageous to use anyone else.
As you can see from the table below, Shopify charges a processing fee (A) which changes based on which package you're using - Basic Shopify, Shopify, or Advanced Shopify. You can elect to use your own processor, but Shopify adds an additional percentage to each transaction based on your chosen plan (B).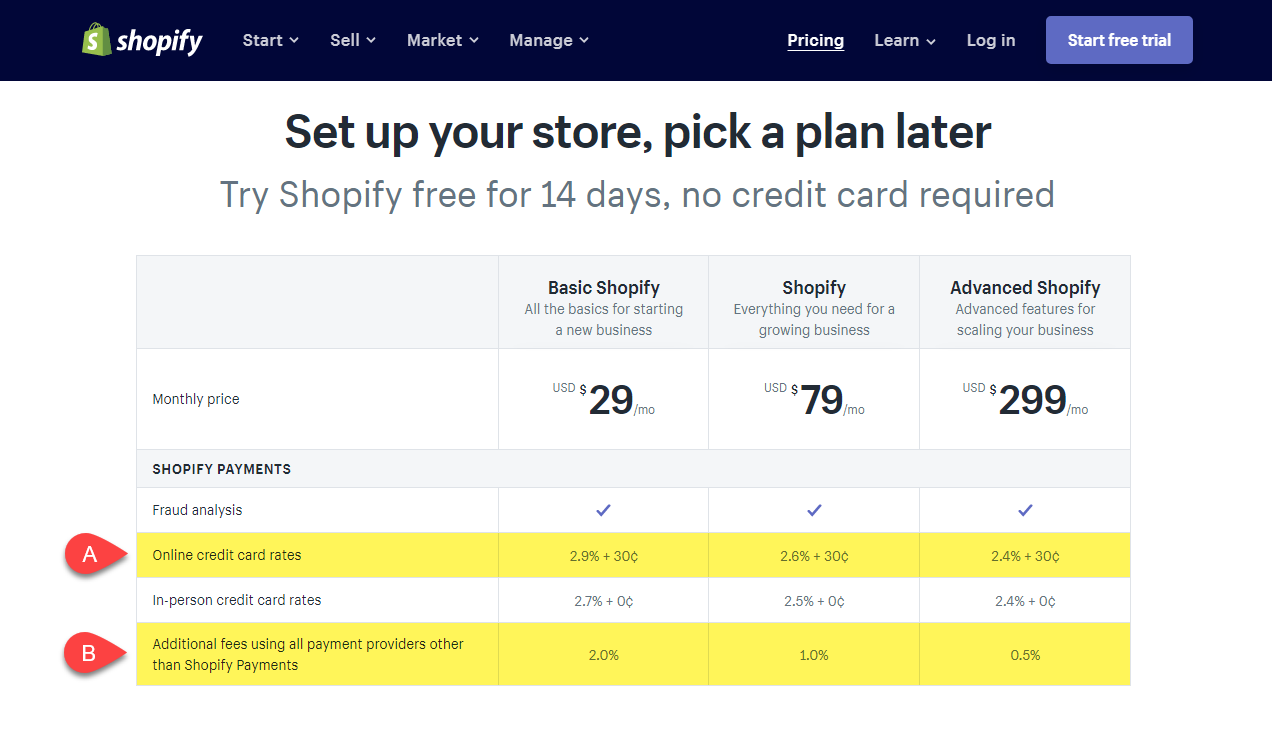 BigCommerce, on the other hand, allows you to use whomever you'd like as your credit card processor, with no additional transaction fees.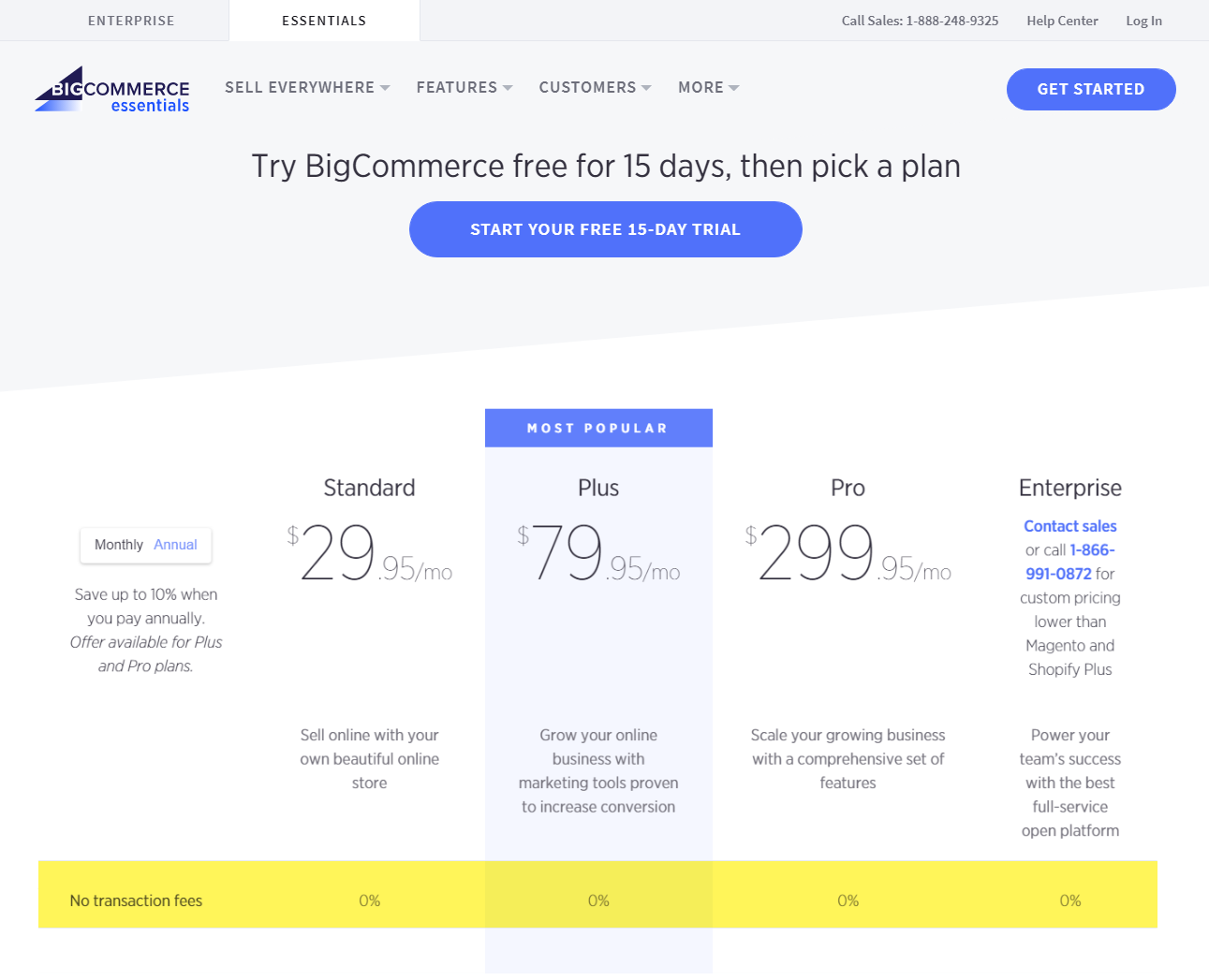 Tagging vs Assigning Categories
Shopify and BigCommerce approach the categorization of products on your website very differently. In Shopify you "tag" products to assign them various attributes, which can then be used for filters, sorting, etc. Tagging is a common approach on social media such as Twitter or Instagram. BigCommerce, on the other hand, uses a more traditional hierarchical approach, placing products in categories and sub-categories. BigCommerce's approach is similar to putting files in folders or sub-folders on your computer.
Epicor Eagle Integration
Additionally, there are some differences between Shopify and BigCommerce when it comes to how they integrate with Epicor Eagle. The following are the pros and cons we've found while integrating with these platforms.
Standard Integration & Returns
We consider a standard integration to synchronize Products from Eagle and Orders and Customers from the ecommerce platform, in this case SHopify or BigCommerce. The Eagle/Shopify integration and the Eagle/BigCommerce integration work pretty much identically, except for one thing - returns. When processing a return in Shopify, we're able to send the return down to Eagle. Shopify also has a nifty option that allows you to specify if you want the item returned back into stock or not. The latter can be useful when the returned item is damaged and you're unable to sell it to another customer. With BigCommerce on the other hand, we cannot send returns to Eagle. There's a deficiency in BigCommerce which prevents us from grabbing the returned item and sending it to Eagle. That means you have to return the item twice: Once in BigCommerce, so the consumer is aware you received the return, they get their refund and their order gets updated in "My Account", and again in Eagle to adjust the customer's order and return the item to stock.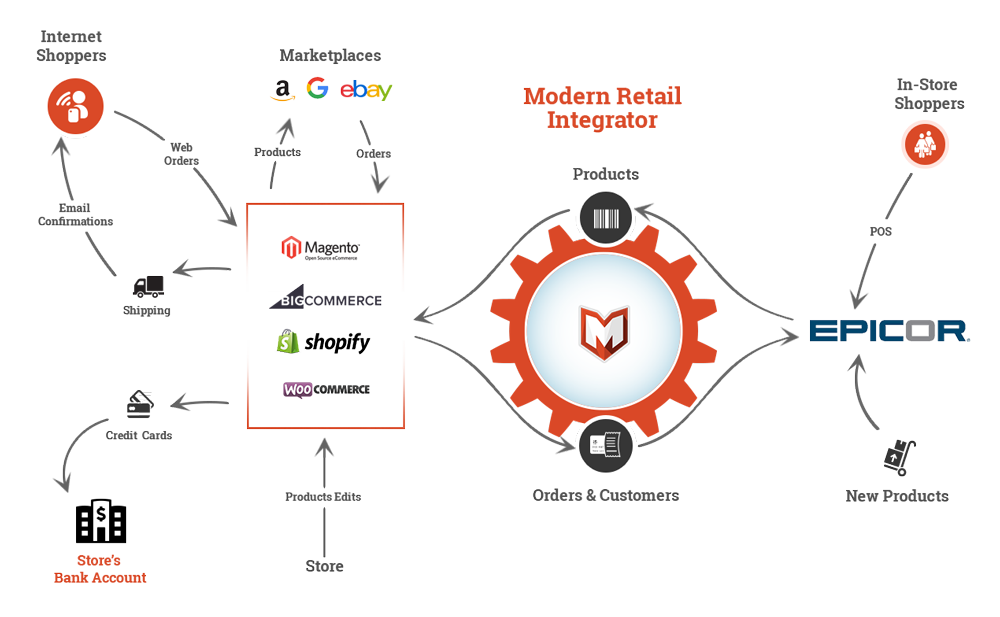 Gift Card Integration
Our most requested feature hands down is our gift card integration. Modern Retail can integrate Eagle Gift Cards with both Shopify and BigCommerce. Unfortunately, Shopify requires that you be on their Shopify Plus plan in order to use gift cards. In case you don't know, Shopify Plus is their enterprise package, which is typically around $2,000 / month. Not so with BigCommerce; we can do a gift card integration even with their $29.95 / month plan!
In-Store Pickup
Buy Online Pickup In-Store (BOPIS) is possible with both Shopify and BigCommerce, but is handled in very different ways. With Shopify, we simply send the inventory from your various locations to Shopify and everything else is handled by Shopify, a 3rd party app, or your website developer. Shopify has limits for each of their plans based on the number of locations, so please get in touch with Shopify to understand the possibilities and fees associated with In-Store Pickup. BigCommerce, on the other hand, uses Modern Retail's In-Store Pickup feature, which can be used with any BigCommerce plan.
Ship From Store & Local Delivery
Modern Retail offers two additional features businesses oftentimes find useful, "Ship From Store" and "Local Delivery". Ship From Store treats your locations as "warehouses", automatically routing orders to these locations so they can be shipped out using ShipStation. Local Delivery also routes orders to your various locations for delivery, using your fleet of trucks or your last-mile delivery service. Both Ship From Store and Local Delivery work with Shopify and BigCommerce.
Business to Business Features
Modern Retail has a variety of Business to Business (B2B) features as well. Currently, these features have been implemented on BigCommerce, but not Shopify. While we believe these features can be implemented on Shopify, you would need to be using Shopify Plus, whereas the same features work on every BigCommerce plan.
Conclusion
At the end of the day, the decision is yours, and you should look at both Shopify and BigCommerce to evaluate which platform fits your needs better. Just like religion and politics, some people are adamant that one platform is superior to the other one. Frankly, I don't see it that way, and I believe it often comes down to a "gut decision" or one just "feels right" compared to the other one. That's fine, you need to be happy with the ecommerce platform you're using, you'll be using it a lot!