Overview
Modern Retail's Account Management features are important for any customer conducting business to business (B2B) commerce on their website. The primary focus of the Account Manager feature is to connect Counterpoint Customers to one or more B2B logins from your Shopify, BigCommerce, WooCommerce, or Magento website. Basically, this feature creates the relationship between the email addresses logging into your website and the customer in Counterpoint.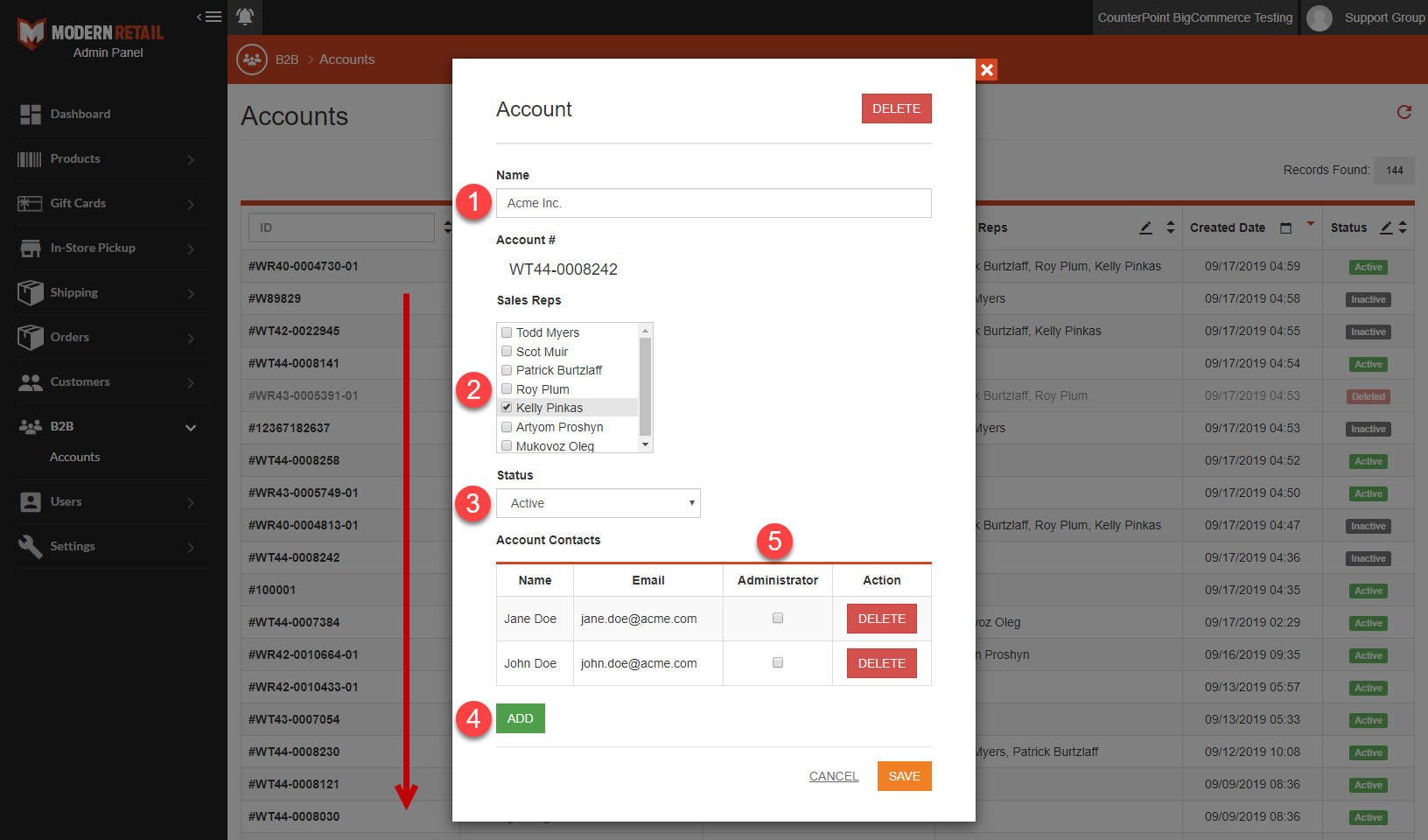 Counterpoint Customers
As part of our onboarding process, Modern Retail will configure our Counterpoint Integrator to import all Customers who are marked as Ecommerce customer. You'll find all these customers in the Admin Panel under B2B > Accounts. You'll notice both the Name and Account # have been automatically imported for you from Counterpoint.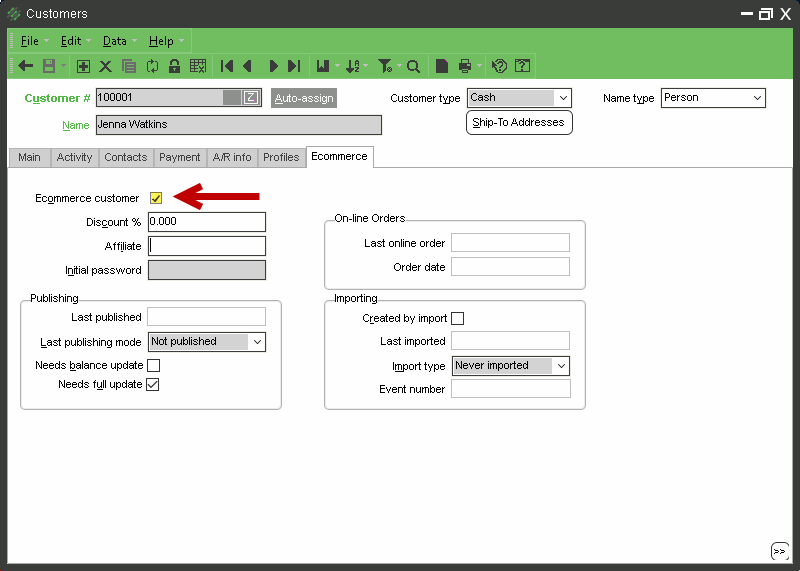 Configuring Accounts
Configuring a B2B Account in the Admin Panel is easy. Here's what can be configured for each Account or Customer from Counterpoint:
Name

The Name, which is the Customer Name in Counterpoint, is automatically populated from whatever was configured in Counterpoint. However you can change this name in the Admin Panel, if you wish.

Sales Reps

Setting a contact for your internal Sales Reps is optional. Some clients like to show the sales reps' name and contact information to the customer once they've logged into their website.

Status

You can allow or disallow access to a customer's information by simply setting the Status to "Allow" or "Disallow".

Add Account Contacts

Clicking Add allows you to assign a website login, which is just the B2B customer's email address, to an Account. This connects the email address to the Counterpoint Customer.

Account Administrator

You can also assign an Administrator. Assigning an Administrator allows your customers to add and remove employees, freeing you of the burden of having to manage these logins in the future.
As you can see from the above screenshot, you can also delete Account Contacts, or the entire Account.
Account Summary, Order History & Payment History
Account Summary
Setting up these Accounts allows your B2B customers to view Account Summary, Order History, and Payment History directly from your website.

Order History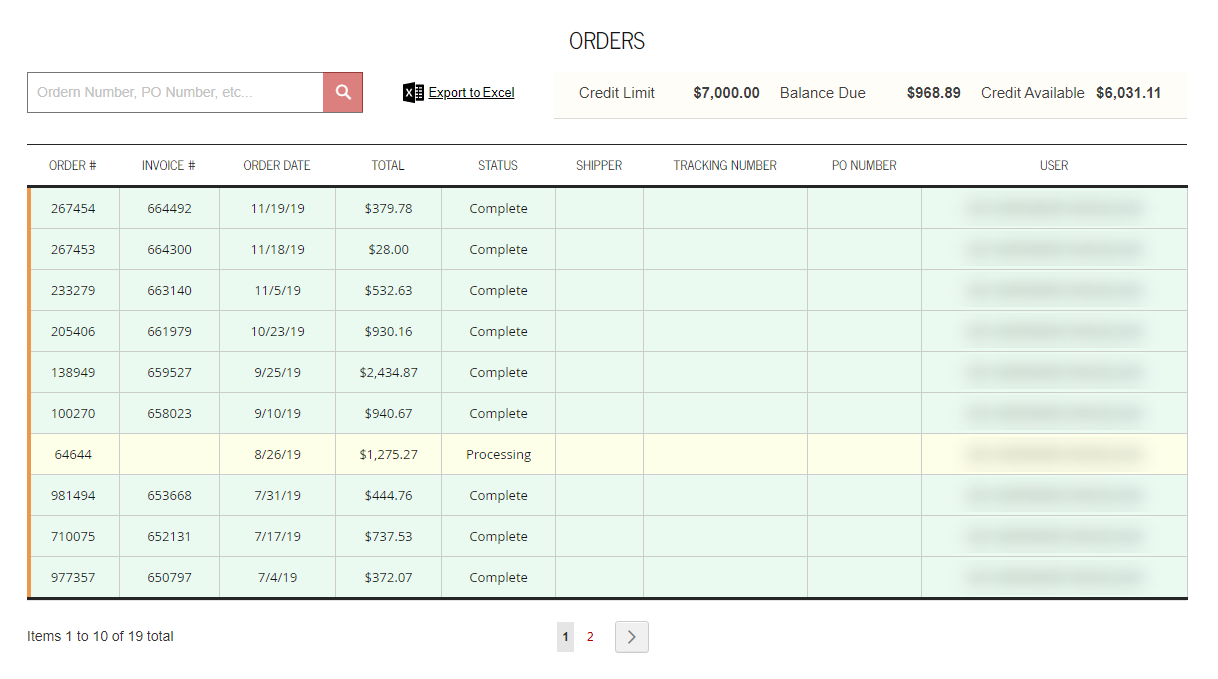 Payment History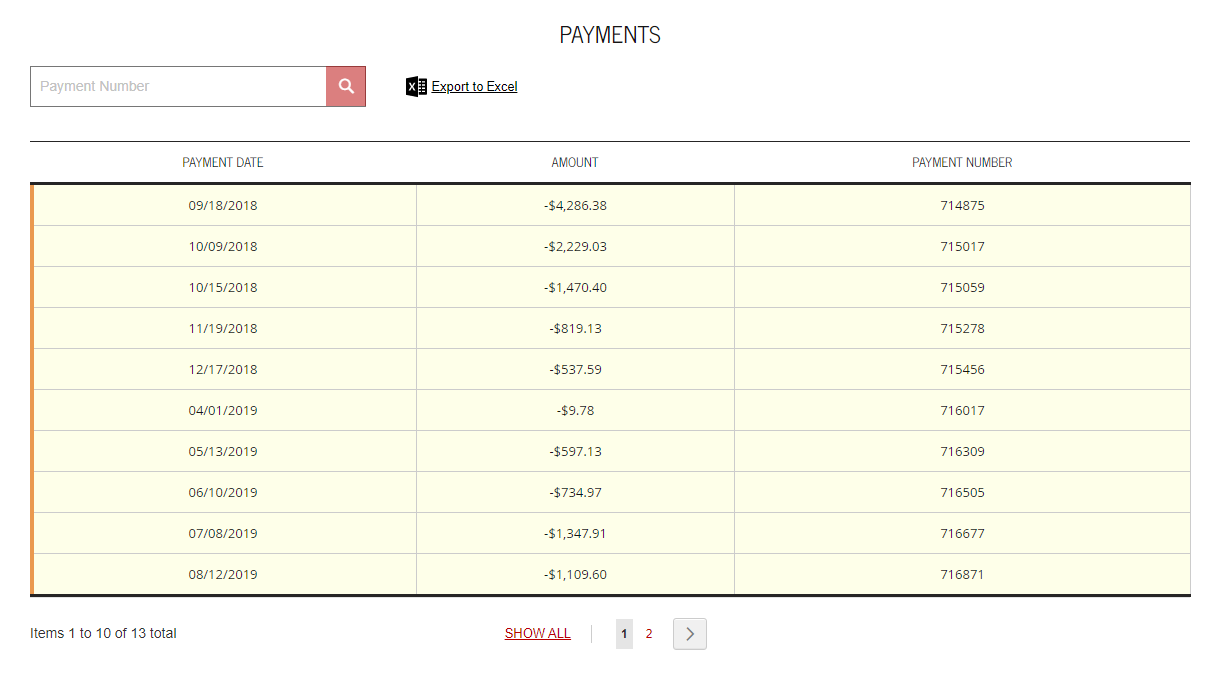 Modern Retail will configure 2-years worth of Order and Payment History to be viewable online from Counterpoint, but virtually an unlimited number of years can be made available.
Please submit a support request in the Admin Panel if you have any questions. Thank you.