Overview
BigCommerce has one description field for all your product content.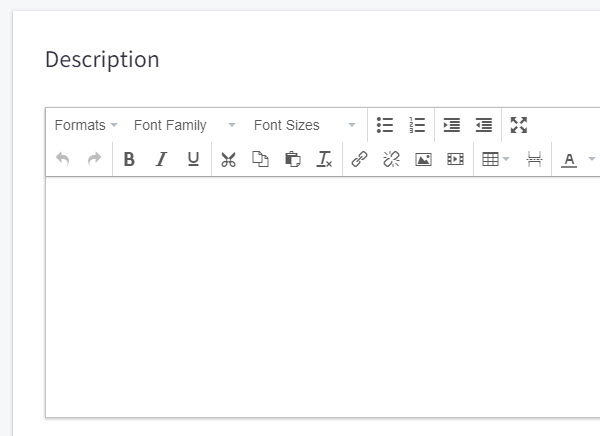 Modern Retail recommends every product starts with 2 to 3 well-written sentences about your product. This content must be unique to you and your business and should be "borrowed" from another source. This content should effectively describe your product without using backroom jargon or technical, industry language. This content should be like a conversation with your shopper.
In addition to writing 2 to 3 sentences about your product, consider creating a bulleted list of information such as the product's materials, care and fit information, where it's made and the SKU. The list may look like this:
100% Cotton
Machine Wash Cold
Line Dry
Runs True To Size
Made in Italy
SKU: 12345
For best practices when writing your product content, follow these guidelines:
Always use complete sentences!
Try to write descriptions that are 2 to 3 sentences long for every product in your catalog.
Use words that really describe your product; just as if you were describing the product to a shopper in the store.
Never copy and paste your content from Microsoft Word or other sources. If your content exists in Word or on your existing website, first copy and paste the information into an text editor like Notepad; then copy and paste the content into BigCommerce. This will insure the content comes over cleanly and without any formatting from the previous source.
BigCommerce provides an editor for the product description field. This editor has a lot of excellent tools that maybe used to help craft your descriptions. The Format, Font Size and Font Family should not be used; the site's code will insure that the font and size used will match the approved design.