Question
I have a WooCommerce website and would like to connect it to Amazon and Google Shopping.  I do a lot of business on Amazon today and would like to get it connected to WooCommerce so Modern Retail can manage my inventory for me with your integration, which is something I'm already using.  Your integration between my point of sale system and WooCommerce has saved me so much time, and I'm now looking to do the same with Amazon and Google Shopping.  I've looked at a company called ChannelUnity.  Do you know them?  Would you suggest using them?  Do you know if they have a repricing tool for Amazon?
Any help you can provide would be greatly appreciated.  Thank you.
Answer

Yes, we actually know ChannelUnity quite well, and their solution works very well with WooCommerce as well as other e-commerce platforms.  The nice thing about ChannelUnity is that it connects directly to WooCommerce.  What I mean is our WooCommerce Integrator sends products over from the POS system to WooCommerce.  Once in WooCommerce, ChannelUnity grabs these products and sends them up to Amazon and Google Shopping for you.  Any online orders you get from Amazon are then sent to WooCommerce where our integration picks them up and sends them off to your POS system, brilliantly synchronizing products and orders between your POS system, WooCommerce and your marketplaces (Amazon and Google Shopping).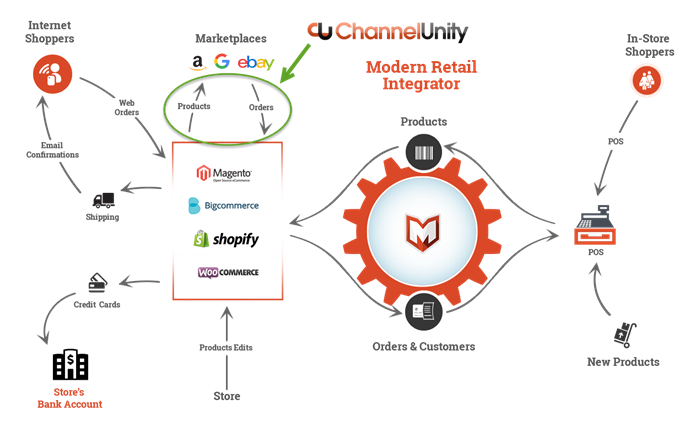 Regarding your question about ChannelUnity having a repricing tool for Amazon, it sure does, and I know the folks over at ChannelUnity would love to tell you more about it. However, here's a link they've sent us in the past about how to reprice your items on Amazon using ChannelUnity:
Please let us know if you have any more questions.  Thank you.