Question
I am emailing on behalf of a client moving their stores over to Counterpoint, and I'd like to better understand the cost and time of integrating that software into an e-commerce platform. I prefer Shopify, but we're open to discussion across all and the merits of each as well.
Answer
Thank you for your interest in Modern Retail. Yes, we'd love to help you and your client with your Counterpoint integration! As I'm sure you noticed from our website, we can get Counterpoint integrated with 4 different e-commerce platforms today: Shopify, BigCommerce, WooCommerce and Magneto. Which one of these platforms you use is up to you and your client. The integration to these 4 platforms all work about the same, so it really is your decision to pick the best e-commerce platform for your client.
You can get an overview and purchase our Counterpoint Integrator here:
If you need more information on how the Counterpoint integration works, please read:
If you are interested in how we manage your integration project please read:
Finally, if you're interested in our on-going support and upgrades please read: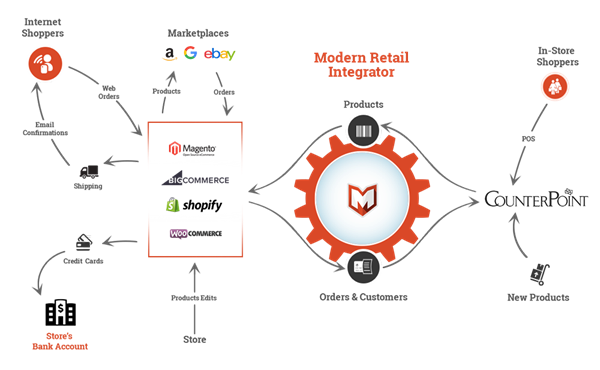 You'll find we're experts at POS and ERP integrations; it's something we've been doing for over a decade and have amassed a great deal of knowledge and technology doing 1,300+ integrations. Here are just some of the articles that I can share with you that make us different.
Let me know if you have any questions. Thank you.