Question
I have several stores in the southeast which sells electronics and other consumer goods.  I'm thinking about using GfK Etilize for my product data feed.  If you haven't heard of GfK Etilize before here's a description of what they do directly from their website:
GfK Etilize supplies product data to more resellers, distributors, manufacturers and website portals than any other provider of Information Technology, Consumer Electronics and Office Products content in the world today. We are committed to offering accurate product data, custom solutions and world-class support to our customers under the brand name Spex. We offer product data, product images, marketing text, product specifications, merchandizing information, rich content and more in various product data catalogs available around the world.
I would like to use GfK Etilize's product data on my website.  However, I also need the items on my website managed from my point of sale system.  Meaning, I would like the price and inventory managed from my POS system so when it changes it will also be changed online.  However, I would also like it to use the product data coming over from GfK Etilize so my staff does not have to enter all the information about these products on the website and upload images, this is what GfK Etilize does.  This would save me so much time and money.
Does that make sense?  Can you help me?
Answer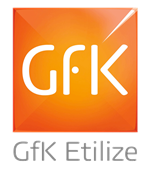 Yes, what you're asking for totally makes sense!  We've actually talked with GfK Etilize before and have worked out a plan to do precisely what you're asking.  Basically, we are going to combine the data coming from the POS system with the data coming from GfK Etilize and send it to the ecommerce platform (currently we support Magento, BigCommerce, Shopify and WooCommerce).  Just as you described we'll utilize product information like Name, Description and Images from GfK Etilize but will still use the POS system for Pricing and Inventory.  Once the data has been combined it will be send to Bigcommerce, Shopify, WooCommerce or Magento where it can be further merchandised if necessary.  Any updates to pricing or inventory from the POS system will automatically be reflected on the site.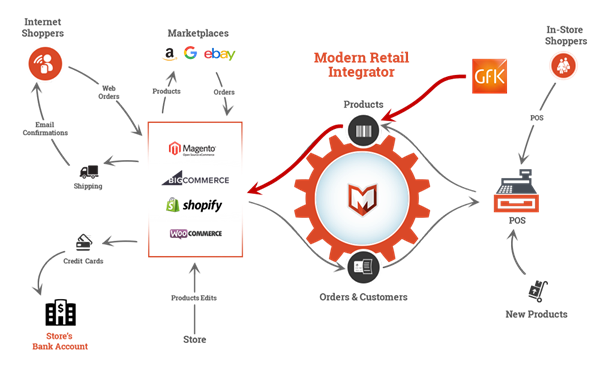 Here's some relevant documentation from the GfK Etilize website:
Sorry these links are password protected so you must ask GfK Etilize for access (included for developers).
This is a great solution, especially given your in the consumer electronic space.  
Please Contact Us if you would like Modern Retail to do this integration with GfK Etilize for you.  Thank you.