Question
I'm interested in your services to integrate CounterPoint with my website. However, I have a few questions before we get started.
Can I specify which products from CounterPoint get sent to the website? I don't want to send the entire catalog, just a subset.
Can you tell me which of the fields in CounterPoint get sent to the website?
Do you send the online orders I get to CounterPoint?
Thank you in advance for your help. Seth
Answer
Thank you for your interest in Modern Retail. It might be helpful to understand the overall process flow first. If you take a look at the diagram below, you'll notice that Products flow from CounterPoint to your Magento, Bigcommerce, Shopify or WooCommerce website. You'll also notice that Orders & Customers flow the opposite direction from Magento, Bigcommerce, Shopify or WooCommerce to CounterPoint.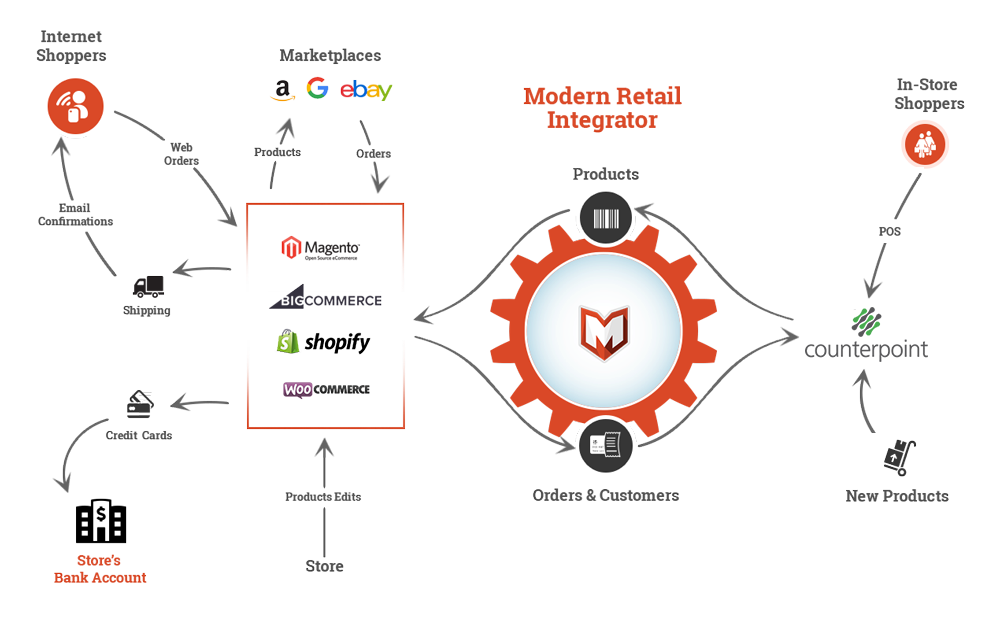 So yes, we definitely send the orders you get from your website to CounterPoint.
You can also specify which products get sent to your website using the Ecommerce item flag under the "Ecommerce tab" in CounterPoint.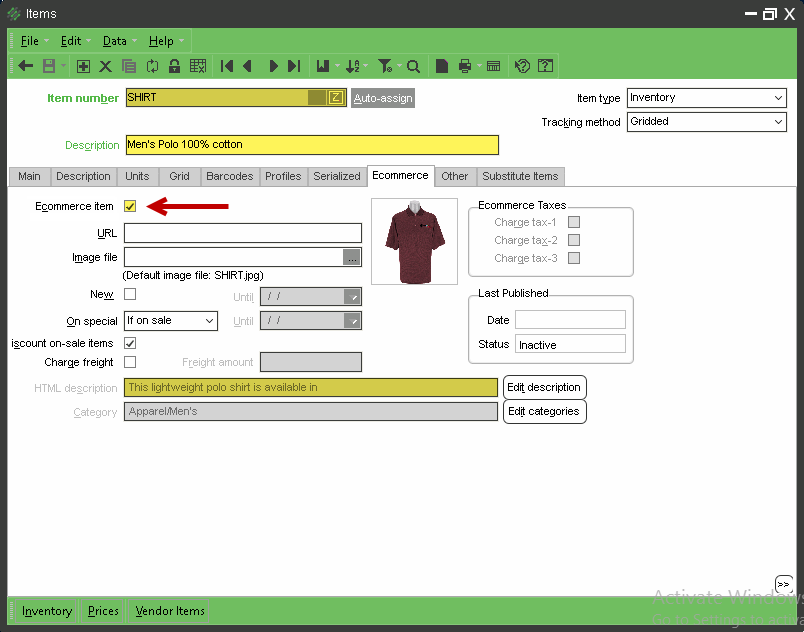 TIP: If you intend on sending most of your catalog to your website, you might want to talk with your CounterPoint reseller to automatically set this option by default.
The following Description fields are sent from CounterPoint to your website.
The Description field below is typically used to populate the Product Name on the website.
The HTML description filed shown above -or- the Long description field shown below are typically used to populate the Description field on the website. While not as frequently used, we can also send the Short description, Additional description 1, Additional description 2 and Additional description 3 fields to your website.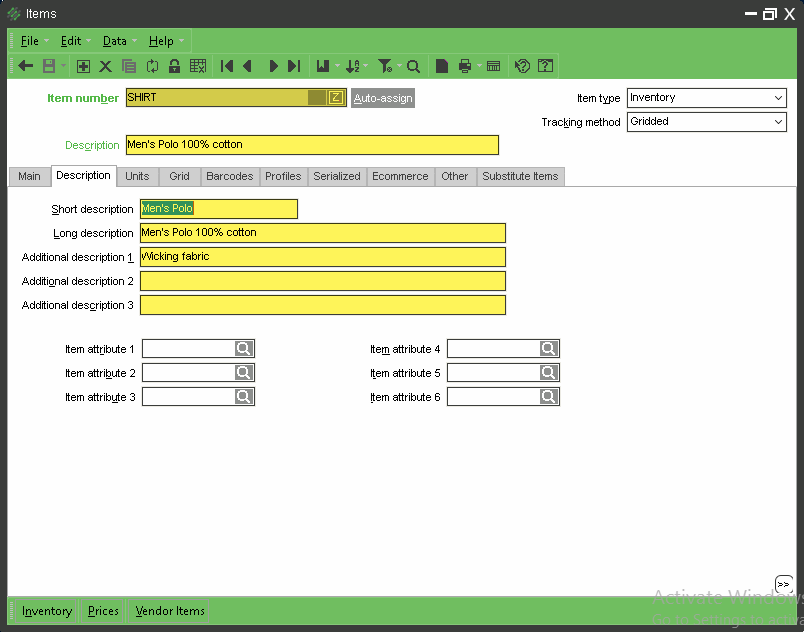 We also send over the grided items from CounterPoint and create the associated product variants on your website.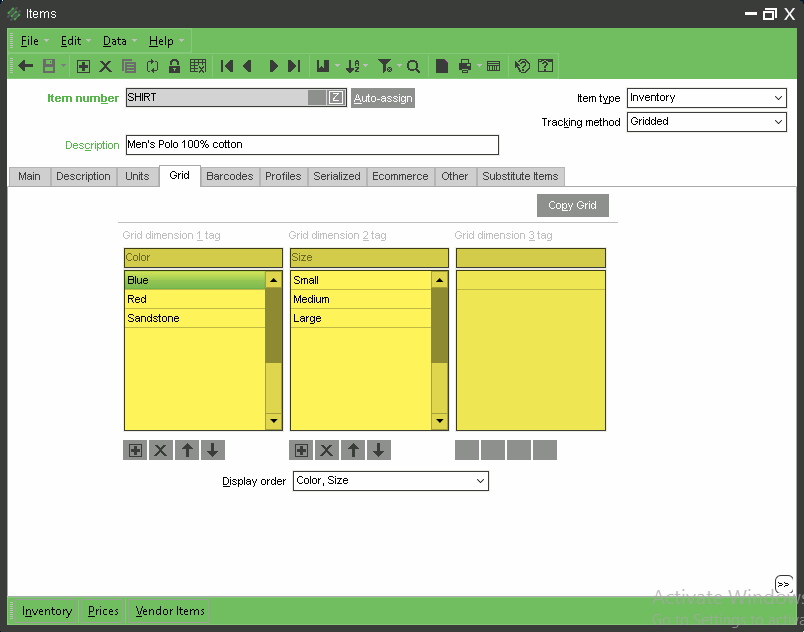 The two most common variants are size and color, but our integration supports whatever values have been entered into CounterPoint up to 3 dimensions.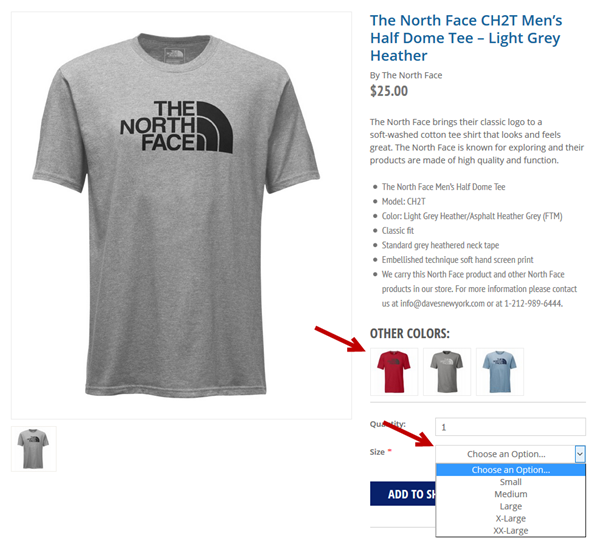 Finally, of course, we grab the prices of the products within CounterPoint.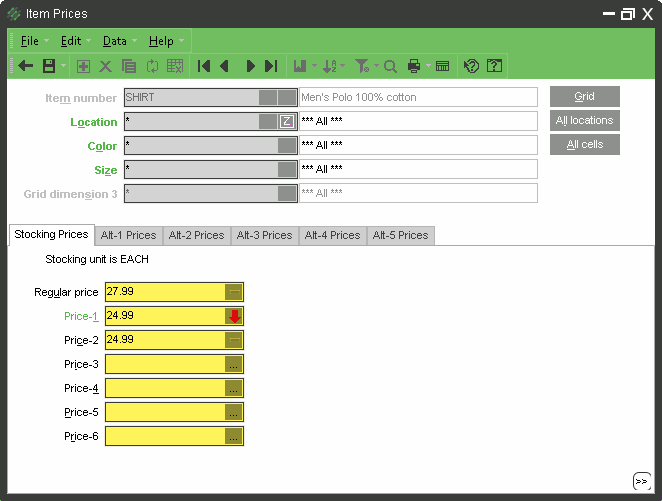 CounterPoint supports 7 different prices and typically at least 2 of these fields will be mapped to your website pricing:
Retail Price
Sale Price
MSRP (optional)
Again, any of the above 7 pricing fields can be mapped to your website. Therefore, if you wanted to use Price-6 as a special "web-only" sale price, no problem, we'll map that field to your website sale price.
Sale Prices can also be managed used CounterPoint's Planned Promos. Planned Promotions give you the flexibility to specify a start and end of the items you want to put on sale on your website.

As you would imagine, changing the price in CounterPoint will automatically change the price on the website as well. Most websites show both the retail price and sale price together, and very often crosses the Retail Price out when the item is on Sale.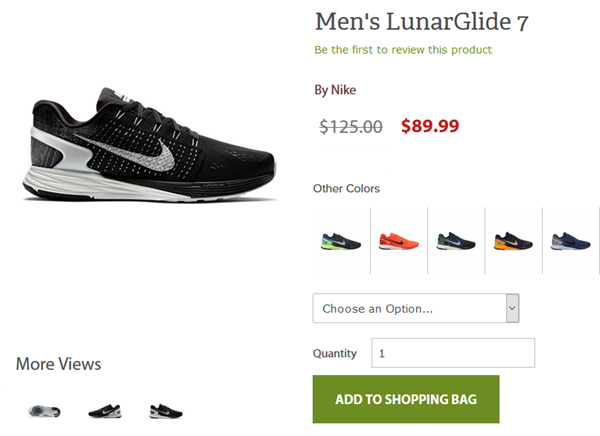 Modern Retail's CounterPoint Integrator will also send the Barcodes from CounterPoint to your website. Typically, these Barcodes are used to store UPCs for your products and are vital for marketplaces such as Amazon, Google, etc. Modern Retail will take these CounterPoint Barcodes and map them to UPCs in your website.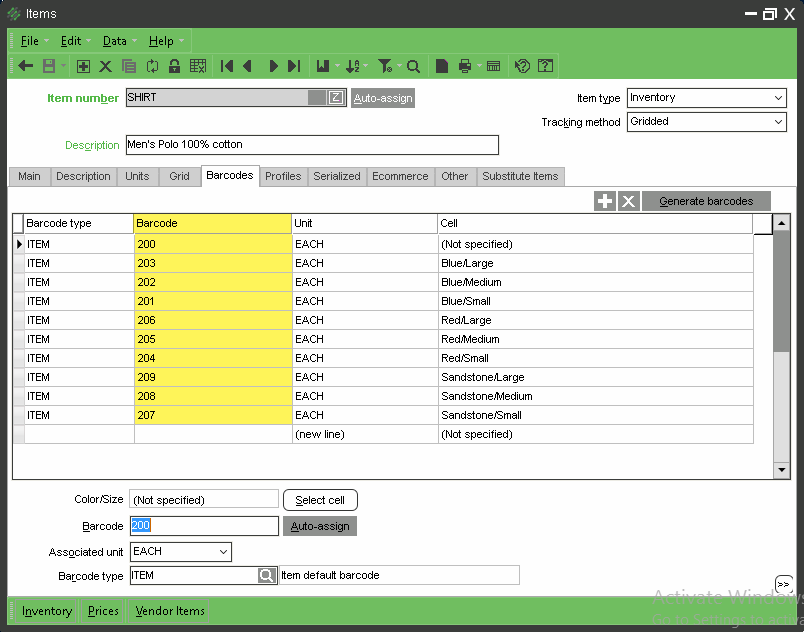 Profiles are a great way to extend the functionality of CounterPoint by allowing you to store valuable information that's unique to your store. These Profiles can also be mapped to values in your website. Need to populate something specific from CounterPoint on your website? No problem! Just populate the Profile field and let us know where you'd like the value to be stored on your website.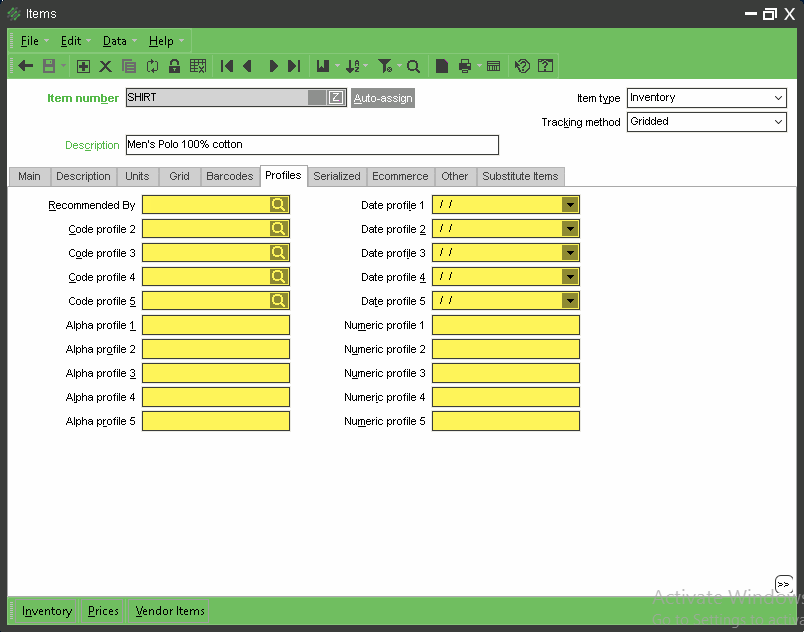 Additional Information
For additional information on how Modern Retail manages the prices on your website, please read:
I think that about does it. When you're ready to buy our CounterPoint Integrator, you can do so online here:
Please let us know if you have any more questions. Thank you.