Question
How does your integration update inventory on the website? Do I enter inventory on my website and how is that kept in-sync with my store's system?
Thank you for your help.
Answer
When your website is integrated with your POS or ERP system there can really only be one "keeper of record" when it comes to inventory, and that's your POS or ERP system. What this means is your POS or ERP system will be the master when it comes your inventory and your website must be the slave.
As you can see from the diagram below, your inventory flows from your POS or ERP system to your website. As you sell goods in your store, Modern Retail's Integrator will update the inventory on your website. As consumers place orders on your site, those orders are sent to your POS or ERP system where the quantity on hand (QOH) for that product is updated.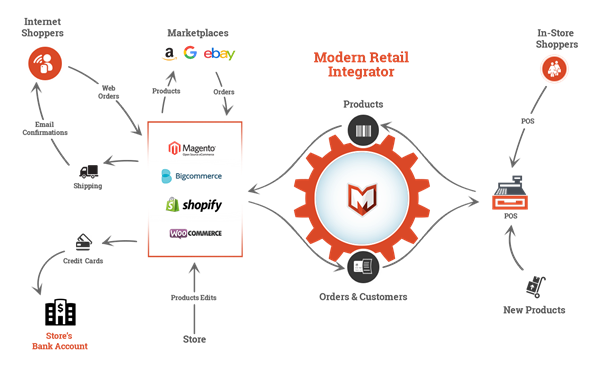 Please let us know if you need anything else. Thank you.