Overview
Tags can be used throughout WordPress on posts and products.  Their function is to allow a shopper or reader another way to filter information on your site. 
On blogs, they're often seen as a "tag cloud" in the menu.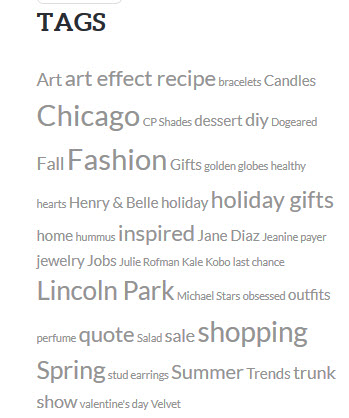 Each word in the tag cloud is clickable and will show a listing of all blog posts that were "tagged" with the word you clicked on.  Words in the  tag cloud become larger the more often they are used.  In the example above, the tag "Chicago" is often used and is larger than "CP Shades" as a result.
Blog Post Tags can be managed two ways:
From within the Blog Post - Look for the "Tags" block.  You can add tags from within the post by simply entering your tag and clicking "add."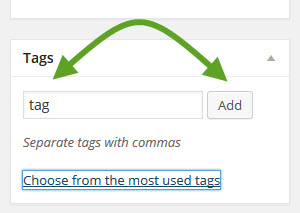 From within the Tags field - you can click the "choose from the most used tags" link to see your popular tags and select from the options.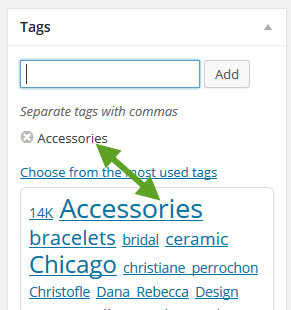 Tags may also be managed from within the Tags menu.  You can add tags, edit tags or even see the posts associated with tags here.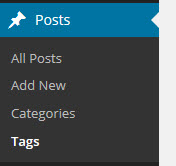 Tags can also be used for products and will show on individual product pages.

Like Blog post tags, they are clickable and will take a shopper to a listing of other products that have been similarly tagged.  Product tags do not show in a Tag Cloud format.
Product Tags can be managed 2 ways: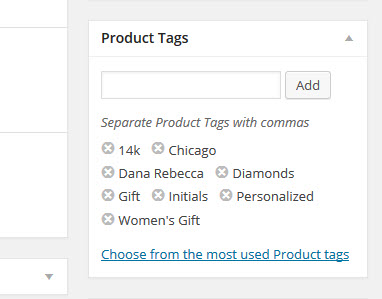 Via the Product > Tags menu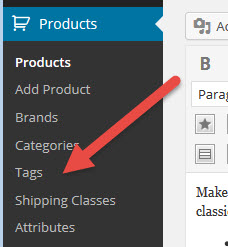 As with any change or update you do, be sure to UPDATE your product or blog post!