Question
We have two different websites that we would like to connect to Lightspeed.  They need to be separate but linked to the same Lightspeed.  I need both sites to send their online orders to Lightspeed as well.  Is this something you do?  Can you help me?
Answer
Thank you for your interest in Modern Retail.  One thing I need to cover before we get started is Lightspeed.  What version of Lightspeed are you using?  We have an integration with Lightspeed "Cloud" but not the "On-Premise" version.
If you are using Lightspeed Cloud, then we can help you with your two websites if those sites are running Bigcommerce, Magento, Shopify or WooCommerce.  These website do not need to be running on the same platform and can be a mix of these 4 platforms.  As you can see from the diagram below, we can "split" the products coming out of Lightspeed and send copies to both websites.  You would then merchandise those products in that specific website as you saw fit.  If you deleted a product from one website, it would not be sent to that website again.  This would be useful if a portion of your products needed to go to website #1 but not website #2.  Orders placed on both of these websites would flow down to Lightspeed Cloud.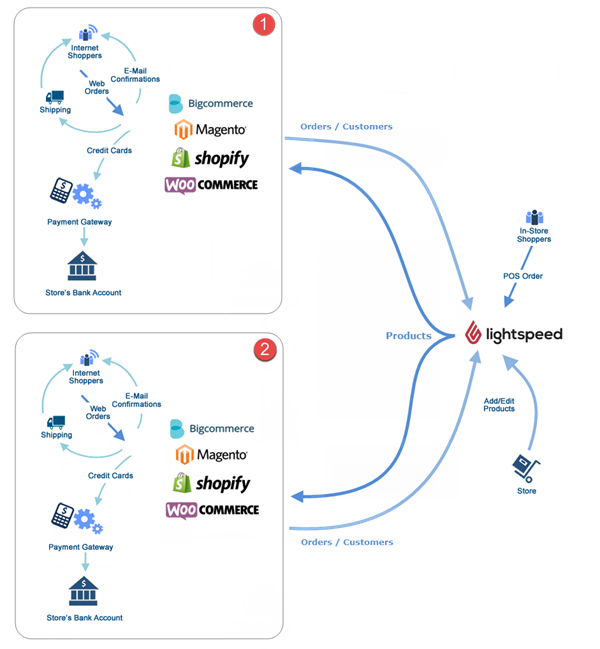 This is the solution we have now but could customize it if you needed something different.  Please let me know.  Thank you.