Question
I've been searching high and low for a POS system and inventory management solution that will integrate with our WooCommerce shop, and I'm officially lost. We run a firearm business, so everything is serialized (problem one) – additionally, about 80% of our business is done through our WooCommerce shop, the other 20% in our local store, and keeping the inventory up-to-date between the two is a huge hassle (problem two).
We are looking for a solution that will allow us to sell a firearm in the store with serial number 'xxx-xxx' and model "12345", and have it remove one of that model from our site. Simple, right? We also want to be able to have it track sales on our site, and whenever model "12345" gets sold on the site, we want to be able to assign the serial number in the inventory system and remove that serial from inventory. This seems to be a big problem that most places can't do.
Your company seems to know what they are doing, so if you have any recommendations as to what kind of software and integration package you might have that would solve my issues, I would be extremely interested! We are looking to get a new system set up within the next couple weeks if we can find one.
Thanks in advance for any help or guidance you can provide!
Answer
Thank you for your interest in Modern Retail and our WooCommerce Integrator.  Yes, I pretty sure I have a recommendation for you regarding tracking your serial number problem.  I have a call out to the point of sale company now and will let you know as soon as I hear from them, but I'm pretty certain this feature is available in their software.
Regarding the integration between this POS system and WooCommerce, yes this is a slam dunk for us.  I appreciate your kind words here, and we do indeed feel like we're experts at getting various POS and ERP systems integrated with WooCommerce.
While we're waiting to hear back from the POS company regarding tracking serial numbers, I think you'll find the following information interesting around our WooCommerce Integrator.
The following article describes how the integration works from the WooCommerce side:
If you are interested in how we manage your integration project, please read:
Finally, if you're interested in our on-going support and upgrades please read:
You'll find we're experts at POS and ERP integrations; it's something we've been doing for over a decade and have amassed a great deal of knowledge and technology.  Here are just some of the articles we could share with you:
You'll love our WooCommerce Integrator Dashboard, which gives you an overview of the status of your integration.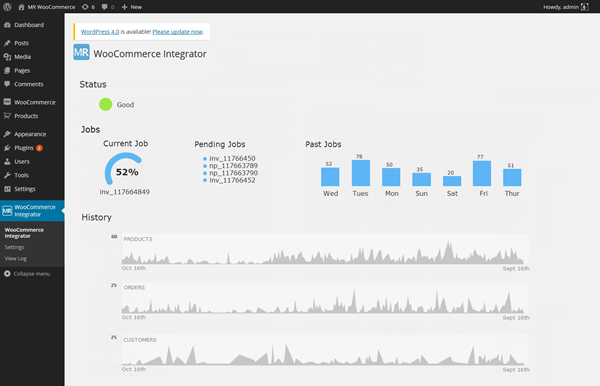 Have a wonderful weekend and I'll send you an email as soon as I hear from our POS partner.