Question
I am investigating your Integrator for a possible upgrade of Lightspeed's POS service to our WooCommerce store. I would like to know how this works in relation to our present fulfillment house, efulfillmentservice.com? We sell products on Amazon, and we would like to make sure inventory numbers are maintained at all sale points.
This may be a question for Lightspeed itself, but I want to check with you as part of investigating the best solution for our growing needs. 
Answer

Thank you for your interest in our integrations.
I have to admit, I have not heard of eFulfillment Service before, but they look interesting.  Looks like they have integrations available with many of the e-commerce platforms, but it doesn't appear that WooCommerce is one of them.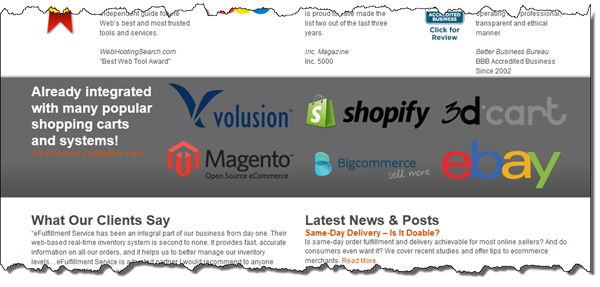 We would be happy to talk with them to see what it would take to use our WooCommerce Integrator with their services.
May I make a suggestion?  Could you please e-mail your representative at eFulfillment Service and let them know you're interested in getting them integrated with your WooCommerce website?  If you copy me on the message, I'll immediately reply asking to set up a meeting with eFulfillment Service.  Getting our developers to talk with their developers even for 30 minutes makes a huge difference and can really help to "jump start" the integration efforts.
Regarding our integration between Lightspeed and WooCommerce, here's a bunch of information to help you.
You can get an overview and purchase our Lightspeed Integrator here:
If you would like to know how the integration works from the WooCommerce side, please read:
If you are interested in how we run your project and what that looks like, please read:
Finally, if you're interested in our on-going support and upgrades, please read:
One thing you need to know is the Lightspeed API, which we use to integrate Lightspeed with WooCommerce, is having major problems right now. 
Please read:
I wish we could do something about Lightspeed's API, but it is all on them.  If you can deal with the integration working only once a night (for now), then this solution should work for you.
Please let me know if you have any questions.  Thank you.