Question
Can you integrate my POS system with Volusion?  I see you support integrations with other e-commerce platforms, so I'm hoping you can help me with this integration with Volusion.  Thank you.
Answer

We don't yet have an integration with Volusion, and to be honest, we don't have it planned for the immediate future.  Admittedly, we used to hear about Volusion all the time, but very few retailers have asked about an integration with Volusion since about 2012.  Volusion adoption has actually been stagnant, and even declining in some sectors, over the last couple of years.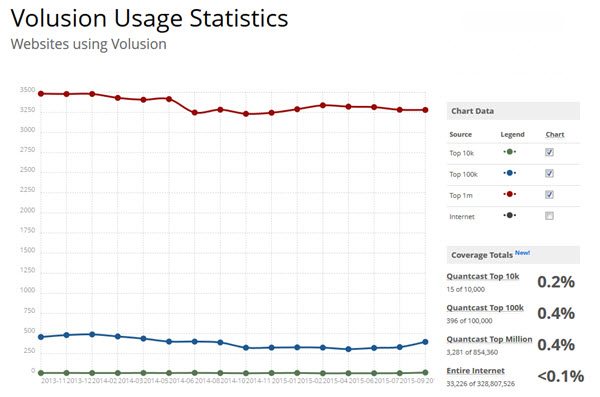 We're also a little unsure of Volusion's future because Volusion seems to be throwing all their weight behind a new platform they developed called Mozu:
Mozu does look interesting and appears to be built from the ground-up using the latest and greatest technologies.  Frankly, we'd probably be more inclined to do an integration with Mozu over Volusion.
Sorry, I'm sure that's not the news you want to hear, but I thought I'd give it you straight. Please let us know what you think.  Thank you.
Stats and charts provided by builtWith.