Question
We've got a client who wants to integrate WooCommerce with Epicor ERP. I have a flow and requirements worked out, but we're at a bit of a loss as to how to start, code examples etc. Nobody seems to be able to even find me a WSDL for the ERP service (not even sure if it has one). I'm wondering how much/what kind of assistance you guys could be to us in developing this solution for our client?
Answer

Thank you for contacting Modern Retail.  Epicor ERP does not have a published API of any sort to the best of my knowledge.  They do provide a "connector" to Magento called Epicor Commerce Connect (ECC).  However, I believe it only works with Magento today.  I realize you need an integration with WooCommerce, and that's where we might be able to help.   We've been working with Epicor's Eagle division to bring to all of our integrations (Bigcommerce, Magento, Shopify and WooCommerce), and we're hoping to do the same with other Epicor divisions such as ERP.
May I make a suggestion?  Could you please ask your client to e-mail their representative at Epicor and let them know you're interested in getting Epicor ERP integrated with WooCommerce?  Please ask them to copy both of us on the message, and I'll immediately reply asking to set up a meeting with Epicor.  I'll also get my contacts at Epicor involved so they can help as well.
You may be interested in the following article regarding our WooCommerce Integrator.  It works really well, and we have a ton of clients using it:
People seem to love the Dashboard which gives them a quick overview of what's going on with the integration.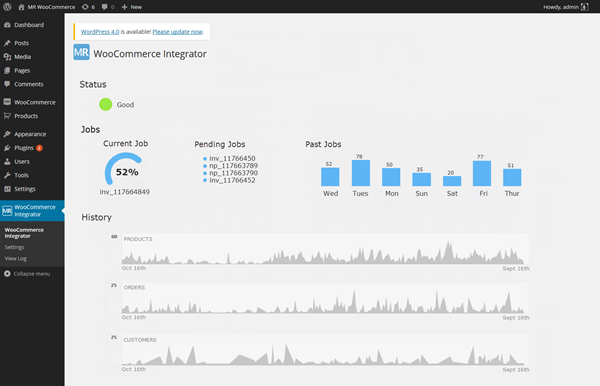 I think that's it.  Please let me know if you have any questions.  Thank you.