Question
Our current website is custom-built on Wordpress, but our online storefront is a separate highly-outdated aspDotNetStorefront site that's integrated with our Tri-Technical Systems POS/inventory software (AIMsi). I've got high hopes for your WooCommerce integration solution, as we can plug WooCommerce directly into WordPress and house our online store within our mobile-friendly, modern website, though I have some concerns with real-time inventory management & sales reconciliation.
I look forward to hearing from you!
Answer
Thank you for your interest in Modern Retail.  Yes, we would love to help you with your Tri-Technical Systems integration with WooCommerce.  In fact, do you know Ron Koppes at Tri-Tech by any chance?  Ron just helped us get a Tri-Tech / WooCommerce integration set up recently and can probably explain all the ins-n-outs from the Tri-Tech side.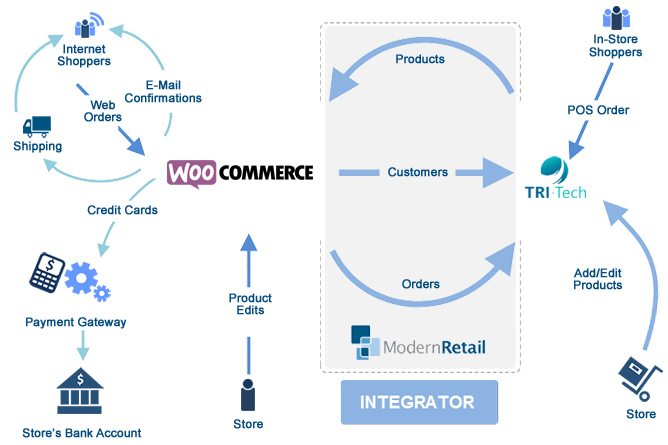 I know you have some concerns about the integration and I'd like to hear them.  The only deficiency with integration I'm aware of is with Returns.  If you get a Return in WooCommerce it will not send the Return down to Tri-Tech.  Instead, you'll need to process the Return in both WooCommerce and Tri-Tech.  This is NOT the case with Orders.  As you get online orders and ship them in WooCommerce, the order/customer information will go down to Tri-Tech.
Regarding the "real-time synchronization", you're right it is a batch process so there will always be some delay when updating WooCommerce.  However, we have clients doing millions of dollars per year online and rarely have someone buy something online that's no longer available in the store.  Yes, it comes in every call I have about this type of integration but in practice it rarely happens.  One thing we've done to minimize this possibility is something we called "Allocation", which you can read about here:
Please let me know if you have any questions, I'd be happy to help and jump on a call to explain everything to you.  I might suggest that you reach out to Ron as well (Pat Murphy or Paul Acton would also do the trick).  Thanks.
P.S. Nice job with your website … we love WooCommerce as well!