Question:
What do the choices in Store manager do if "Paid by customer" or "Paid by store" are elected under UPS Signature.How is that different than the choice when processing an order. ?
Answer:

The settings in Store Manager allow you to set it up so that all orders include the requirement of a signature or insurance. If there is a charge for that and you have "paid by Customer" elected, that amount will be added to the order at checkout . If you have the "Paid by Store " elected, the charge is not added to the order but is added to your shipping bill.
If you do not want it to be applied to every order, you can do it selectively by using the check boxes on the individual order.
You can add additional insurance and set the amount.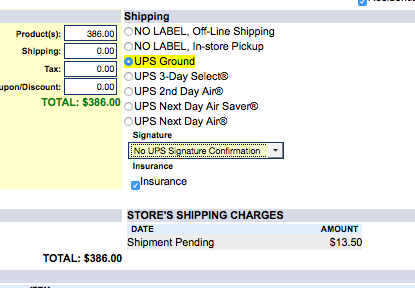 You can choose to add signature confirmation or Adult signature confirmation.

This information is sent to UPS to create the label. Adding insurance or a signature requirement may change the amount charged by UPS. This increase will not be automatically added to the order and you must manually change the shipping amount. To figure the additional cost you must contact UPS and then add that amount to the yellow shipping field if you want to charge the customer. Even though you  are changing the total amount of the order so that it is now greater than the amount authorized at checkout, Authorize.net allows for minor increases so you should not have any issue processing the order.