Question:
What are classifications and what do they do?
Answer:
Classifications allow you to help your customers filter your products so they can find the exact type of product  they are searching for.
Classifications allow you to set up two characteristics that can be assigned to each product and then integrated into your site so the customer can filter  your products.
An example would be using them to create a "Shop by Color" filter on the department and brand pages.
Store manager already gives you the ability to add a "shop by price" and a "shop by size " filter. With classifications you can add two more.
For the color example, you would create a new classification in store manager and add a list of the colors you want use.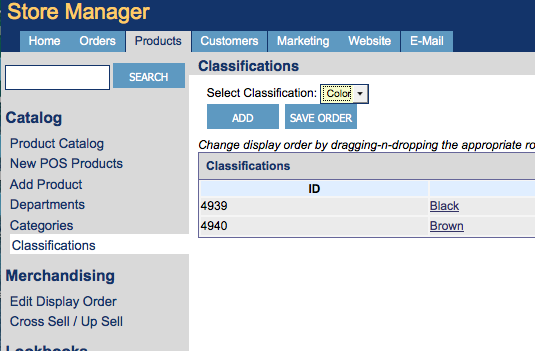 Once this is done, you will then see the list on the product page for products in Store manager.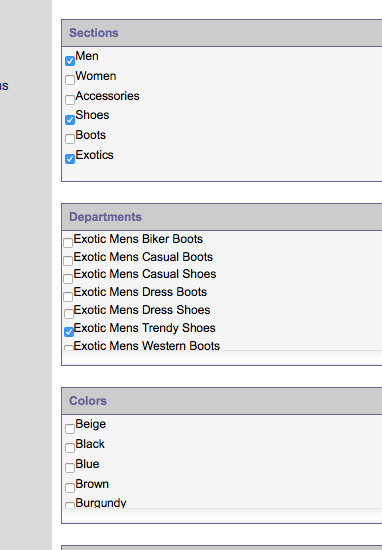 You can use this new field to assign each product the appropriate color.
This will then allow the addition of a filter on the department and brand pages of your site where the customer  can narrow the products on the page by color.
You can create a second list and it will appear in the classification dropdown and on the product page so you can assign products the second classification.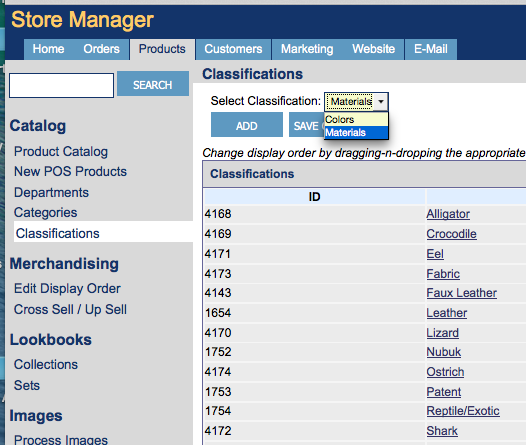 Note:
There is a method to allow you to in affect  have more than two filters by combining characteristics into one non specific classification.
You could call the classification "Style" and then have four of the options pertain to one department and others pertain to another department.
For example, the classification is Style, and the options are :
carry on
wheeled
non-wheeled
duffle
ankle
knee
wrist
foot
Now the first four are used in the luggage department and the second four are used in the athletic support department.
Thus when the person is in the baggage department,  the only options that will show in the drop down for  "shop by style" will be the first four as no products in the baggage department have been assigned using  the second four options so they do not show up.
This way you can in affect have multiple classifications combined in one generic filter.