Seems like there's a new SSL vulnerability every few months now.  If you ever wonder if your website's SSL certificate is secure and up to the latest standards and patches, Qualys' SSL Labs test may be just for you.  Simply go to the following website and enter in your website's address:
The results are easy to read because Qualys gives you a letter grade (A, B, C, etc) of how secure it thinks your SSL certificate is on your website.
NOTE:  You may want to check "Do not show the results on the boards" so you can keep your results private!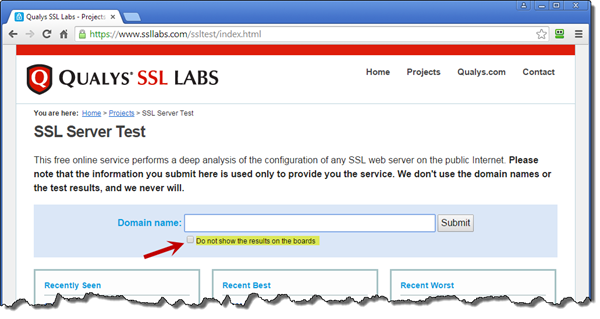 The key think you want to look for can be found at the top of the Configuration section.  You want to make sure your website is not supporting SSL 2 and SSL 3. Supporting these weaker standards can make your website vulnerable (see Freak SSL Vulnerability).

Modern Retail also recommends supporting the newer TLS 1.1 and TLS 2.2 cryptography standards.
If you have any questions about the security of your website or SSL certificate, please submit a Support Request and we'll help you out.  Thank you.