Question
We are looking to find a bit of software which initially will just transfer orders from our magneto store into Sage 50 when the orders status is set to checked (so not directly after they have been placed, once the order has been checked by your customer service team) with the information of products, delivery address, delivery method.
Also we want software which is easy to understand and also easy for us to create new tasks in the future for example moving the orders back into sage with updated status, quantities of shipped items and any products outstanding on an order. But we want to implement these at a later point once we know everything works and everyone is use to the new system of transferring orders form Magneto to sage.
If this is something your software can do please do let me know as watching your demo video with sage 200 it seems like what we want, just need to know how easy are new tasks created and can anyone do it or does it require specialist training?
Answer

My apologies for the delay.  I'm sorry our integration today goes the "other way", it copies products up from the POS/ERP system into Magento.  We've discussed extending our integration to allow products that are in Magento to flow down into the POS/ERP system but that is not something we'll be developing for at least 6 months.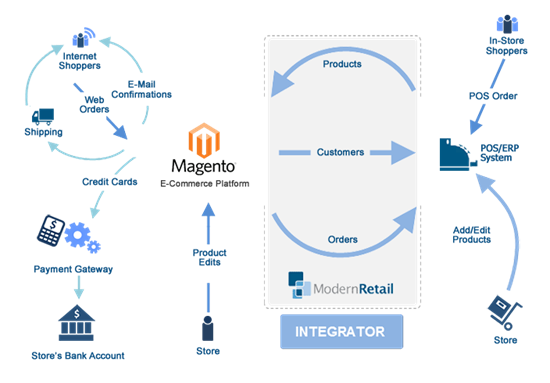 Sorry I don't think we can help you in the short-term.