Overview
The default search in Magento allows you to control the results your shopper will see. You can also clear out old search terms or add a new search term. The steps below will take you thru each option.
Search terms can be found in Magento > Catalog > Search Terms.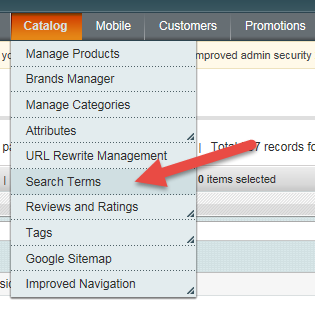 The listing you see shows the following information:
Search Query: This is the term your shopper searched for on the site.
Results: This is the number of products that were returned in the results.
Number of Uses: This number represents how many times the search term was used.
Synonym For: This field can be used to list a similar search term that should return the same results as the original.
Redirect: This field shows the link you may have assigned to the search term.
Display in Suggested Terms: This controls whether or not the terms should show in the search field when a shopper enters their search term.
To control the results a shopper is taken to via their search term, follow these steps:
Log into Magento > Catalog > Search Terms.
Find the term you want to manage in the listing.
Click "Edit" in the far right column. You'll be taken to a new screen.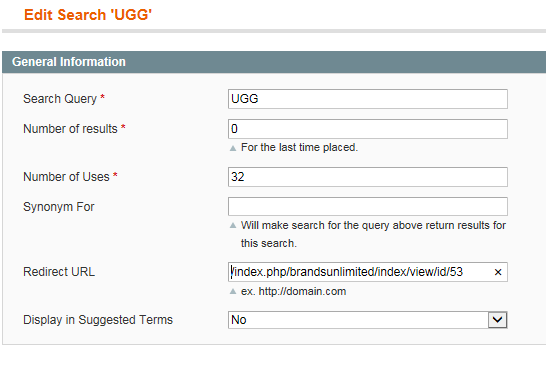 Enter the results URL you want shoppers to be taken to in the "Redirect URL" field.
You can change the "Display in Suggested Terms" field to "No" if you'd like the terms your shoppers enter to not display when they enter a term.
When set to "Yes", the search field on the site will look like:

Follow these steps to clear out the search terms you want removed.
Check the box beside the terms you'd like removed.

Look for the "Actions" box on the upper right side of the screen.
Select "Delete" from the dropdown and hit "Submit".

You can also add a Search Term that will populate in the listing under the search box for your shoppers. This is a great marketing option for popular products! Simply click on the "Add New Search Term" and complete the fields.
Consider using the "Synonym For" field for mis-spellings of the product name.
Also consider configuring a Redirect URL to control the results a shopper gets.