Question
I own a herb company and I need a system that can connect multiple brick and mortar location and a WooCommerce e-store to a single inventory system, and also track the physical locations of stock between two store fronts and a warehouse. Ideally, the system would be able to generate purchase orders based on current inventory stock, receive inventory at the warehouse, generate pick orders or transfer requests to move items to the storefronts, reduce the master inventory from storefront sales and live update our master inventory from e-commerce sales. We are interested in replacing our in-store point of sale, but it must be able to understand that we purchase products in pounds or kilograms, and then sell them by ounces. We are experimenting with switching to using the Measurement Price Calculator plugin for WooCommerce.
Answer
Thank you for your email. I would happy to help you with your POS system and website integration.  While we're not a consulting company who helps clients pick out POS systems per se, we have been in business since 1998, and have integrated with POS systems for over a decade, so we've really seen a lot.  During this time we have only worked with brick and mortar retailers so we have a pretty good sense on what they need.
The first question I would ask is:  Do you want an "on-premise" system or one that works in the "cloud"?  Answering this question will immediately cut your options in half.  The advantage of a cloud system in your particular case is there's no need to synchronize your inventory between your different store locations and warehouse because everything sits in the same database in the cloud.  We will need to synchronize your data with your website because let's face it they are two different disparate systems but we've gotten really good at it and we can synchronize your information in near "real-time" with WooCommerce.
Speaking of WooCommerce, you'll love our WooCommerce Integrator because frankly you'll quickly forget about it!  This Integrator will be sitting in the background passing data back and forth with your POS system.  Sure you can always see the status of the integration by going to the dashboard but I'm sure you can only look at the "blinking lights" for so long.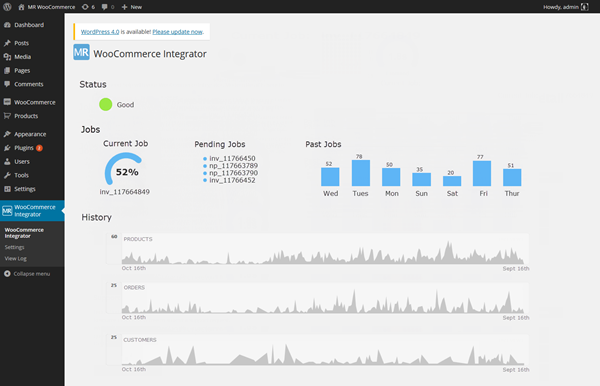 I hope that was helpful to you - at least a little.  If you want to see the POS / ERP systems we integrate with today, please see:
Please don't get discourage if you find a POS or ERP system that you love with but don't find it on the list.  We've been adding one new POS / ERP system every month so if you have a favorite please let us know and we'll bump it up on the list.  Thank you.