Question
I just had a quick question. I have a client who we are proposing to do a WooCommerce site for which will need to integrate with CAM Commerce. The one thing I didn't see on your site was whether you could import orders into CAM for processing. I suppose I would like to know a little more about the integration and what exactly can and cannot be accomplished.
Answer
Our integration with CAM Commerce is one of our oldest, dating back to 2004. We added a bunch of CAM Commerce integrations, and were starting to work on a very robust integration using their DataIX application programming interface (API).  Unfortunately, Celerant puchased CAM Commerce in March 2012, and decided to change direction with their API.  They decided to no longer make their API open to outsiders.  We actually had a conversation with some representatives from CAM Commerce in June 2013 to try to convince them otherwise, but were unsuccessful. 
However, all is not lost. We can still help you and your client integrate CAM Commerce with WooCommerce by using a simple "inventory report."  Basically, this works by creating an inventory report in CAM Commerce and uploading it to our Store Manager portal whenever you want to update your inventory.  You can run this report as often as you like, but most people find doing it once a day is sufficient if your website has a lower number of visitors and sales.  You can read the instructions on how to create this report here:
If you're tech savvy, you can even automate this report and send it over to our FTP site where it will be processed automatically (sorry this is outside our scope of work).
As you'll notice, this is a "one-way integration." Products from CAM Commerce are passed over to your website, but online orders and customer information are not sent down to CAM Commerce.  In order to accomplish something like this, we'd need to use CAM Commerce's API, which was discontinued as explained above.  I'm sorry, but if you wanted to move forward with this integration, you'll need to manually hand-enter your online orders into CAM Commerce.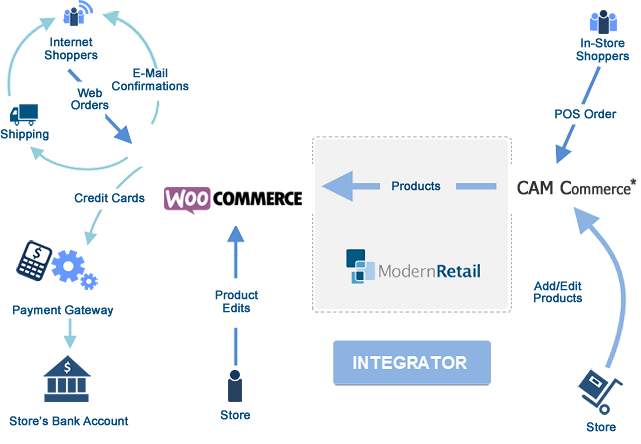 We'd still love to have an integration with Celerant's CAM Commerce.  Maybe with a little push, they'd be willing to partner with Modern Retail so we can bring this WooCommerce integration to their customer base.  Please ask your client to contact their representative at Celerant to encourage them to work with Modern Retail.  We'd be happy to jump on a call with them to figure something out.
If you're interest in this integration, please Contact Us or purchase it online and we'll be happy to get it going for you.  Thank you.