Question
Hello. We are a model train manufacturing company, and I am looking into updating our company's website. Currently, we are running on a very ancient system and all new items we have for sale are hand coded by the company's owner. We have over 2,000 items for sale and add 50-75 a month. Our site is so overloaded with items that the owner cannot update the items regularly when they are out of stock or on back order.
We need a new e-commerce system that is EASILY update-able. We like to add content to our site and must be able to easily change and add descriptions to items. Right now, we have about 150 web pages to handle all our items. I think there is a way to streamline the whole process.
Our customer base is quite old and needs an easy user interface with large type and clear instructions. Our current site is very hard to navigate, and I'd like to change that while also keeping cost low. I am interested in having a few pages built and then being shown how to add more pages so that I can build up the pages over time. There is a lot of content that has to be transferred from our old site. I'd like to know what e-commerce platform you think is right for us, and if you could build us a site. Thank You.
Answer
Thank you for your interest in Modern Retail. I would love to help you with your website – not only have we been building websites since 1998, but I used to be a fairly avid model train builder in my youth. I loved my transformer!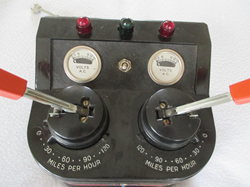 We can also help you get your website integrated with your POS system to keep your inventory up-to-date and pass your online order and customer information back down to your POS system. This allows you to keep your inventory in-sync and keep all your orders together in your point of sale system.
Regarding the up-keep and maintenance of your website, yes, absolutely it will be ease to manage! Modern Retail will train you (pun intended) on how to self-manage all aspects of your website so you can add content, change homepage images, add or delete shopping departments, blog, etc. Luckily, the web has really grown up over the last few years. These tasks are no longer complicated and can be done by nearly anyone!
We'll also work with you to help you pick the right e-commerce platform for your business and make sure the website design is perfect for your older customers. We've been building website so long that we're able to offer you multiple solutions, which gives us the ability to fit you with the perfect solution for your business.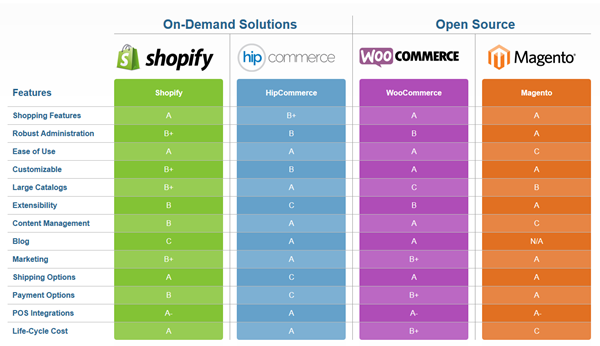 You can also find the above chart here:
While I would need to know a lot more about your business and what you do with your website, my knee jerk reaction is WooCommerce would be a great fit for you. Not only is WooCommerce an easy-to-use e-commerce platform, but it also sits on top of WordPress, which is the most popular content management system on the planet! WordPress is very simple to use, and we'll give you all the training you need to take advantage of this powerful tool along with WooCommerce.