Question
Please tell me which way we should go with a new site we are looking at: WooCommerce or Magento?
Answer
It is very difficult to help someone decide between WooCommerce and Magento without fully understanding their requirements.  However, here are some general guidelines we use when deciding between WooCommerce and Magento:
Website Sales

Are you currently doing more than $500,000 per year in online sales?  If no, then pick WooCommerce over Magento.

Catalog Size

If your catalog is over 10,000 items, then you need to use Magento over WooCommerce because WooCommerce cannot handle large catalog sizes.

Content Marketing & Blogging

WooCommerce has the clear advantage here because it is built on top of WordPress, the most popular content management system (CMS) in the world.
However, Modern Retail does always recommend running a WordPress site in parallel with a Magento website.  This gives our clients the best of both worlds: a very powerful e-commerce platform with Magento plus the very best CMS with WordPress.

Extensibility

Magento is the clear winner when it comes to extending the capabilities of the core platform.  Take a look at the Magento marketplace, Magento Connect, and you'll find an extension for nearly anything you want.  WooCommerce also has a thriving marketplace and probably has much of what you need, but it has less of a selection.

Project Cost

We found it is in general half as costly to develop a website in WooCommerce vs. Magento.  Magento is bigger and more complex, which requires more development and testing time.

Life-Cycle Cost

Magento is more costly to maintain and run.  The hardware requirements to run a Magento website are greater than WooCommerce.  Additionally, we're finding it is easier to upgrade and maintain a WooCommerce website over Magento.
Below is a chart showing our findings around these two platforms.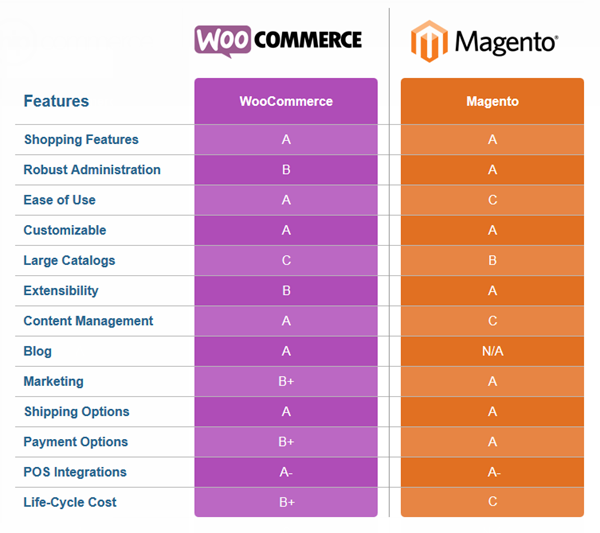 Please contact us if you're interested in talking about your project.  We'd be happy to understand your requirements in detail so we can help you pick the platform that's right for your business.  Thank you.