Question
I am developing a site for a client using Wordpress and Woocommerce and would like to know if your plugin can assist in the (regular) import of product data to the store from Sage? I know that the client can export the product data as a CSV file, and that product variations seem to be stored as separate rows in the exported file. Is this something that your plugin can handle?
They are using Sage 50 Accounts Professional 2014.  Could you let me know please?
Answer
Thank you for your interested in Modern Retail and our WooCommerce / Sage Integration.  Yes, what you described is exactly how our Sage integration works today.  Your client runs an inventory report (in a CSV format) and uploads it to our Integration Portal.  Once uploaded it will chug through the data and send the product updates over to WooCommerce.
We call this a "one-way integration" because it updates products and inventory but it does not send order and customer information back down to Sage.  You can read more about this one-way integration here: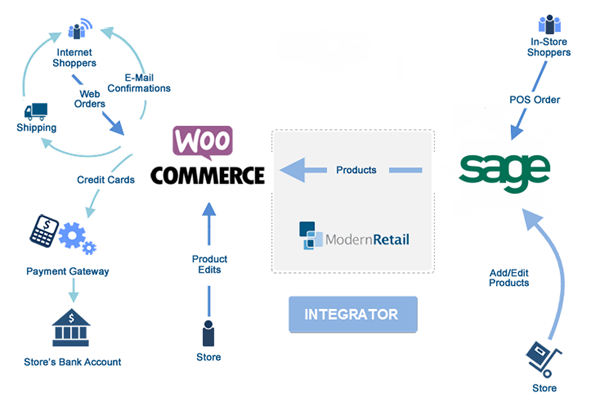 Our goal with Sage is to create a more robust integration where completely online orders and customer information is sent to Sage.  Currently, this is not available.