Overview
Retailers often ask us which is better, Rackspace Email or Microsoft Exchange? For the majority of our customers, we can determine what solution is right by asking the following questions:
Do you use Microsoft Outlook?
Do you need to synchronize your Outlook email, contacts and calendar items with your mobile devices or others within your organization?
If the answer to both of these questions is YES, then Modern Retail recommends we set you up with a Microsoft Exchange email account because Rackspace Email will not synchronize contacts and calendar items with your mobile device if you use Outlook.
If you answered NO to using Microsoft Outlook, then Rackspace Email is for you! Combined with Mobile Sync for Rackspace Webmail, it is a very powerful messaging solution that meets the needs of most retailers.
Comparison

Below is a page from the Rackspace's website, which you can also find here:
As you can see, Rackspace Email has many of the features of Microsoft Exchange, and most retailers find that Rackspace Email meets the needs of almost everyone in their organization.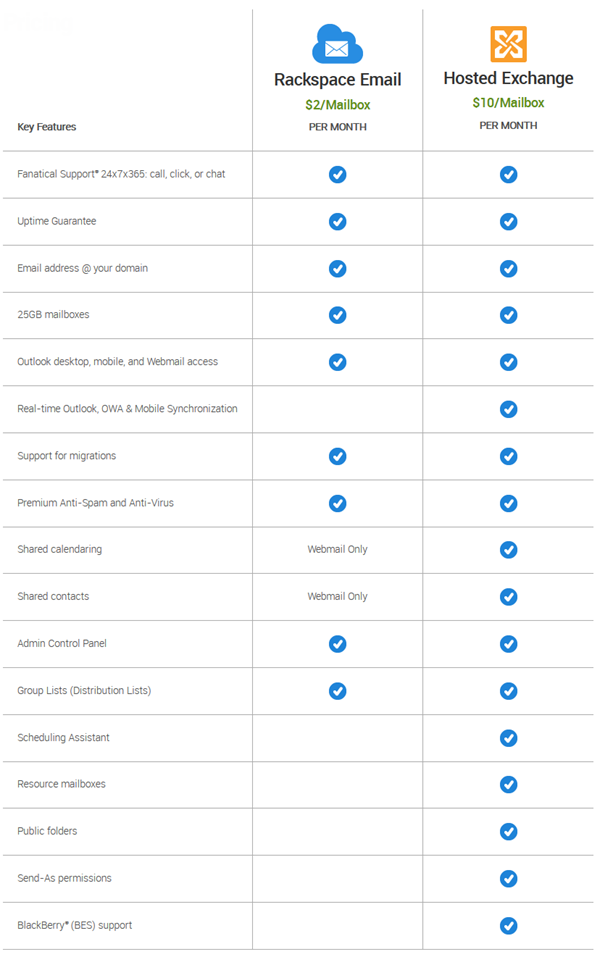 Your Modern Retail account comes with 10 Rackspace Email accounts. Additional Rackspace Email accounts are $2 / month per mailbox. Microsoft Exchange accounts are not included and cost $10 / month per mailbox.
Rackspace Email & Exchange "Hybrid Solution"
What's nice about Rackspace Email and Exchange is that they can be used together! This gives you the ability to provide Exchange accounts to only those people who need it, while everyone else gets the very capable Rackspace Email accounts. Rackspace Email and Exchange work together in harmony, allowing you to see Rackspace email accounts next to your Exchange accounts in Microsoft Outlook.