Overview
For better search results and usability by your shoppers, we have implemented and configured an Advanced Search extension.
The Advanced Search extension can be found in the main menu.

We have configured the Match Mode to SPH_MATCH_EXTENDED which matches the query as an expression for better results for your shoppers.
You do have the option to change gyour settings at any time. Follow these steps:
Log into Magento > Advanced Search > Settings
Expand the Sphinx menu.
In the Match Mode drop down are your additional choices.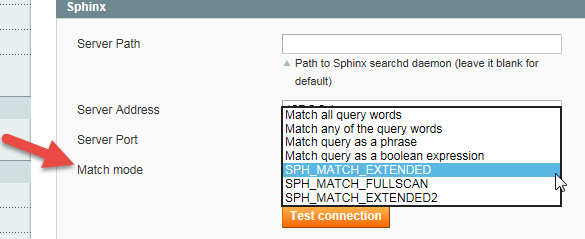 The Match Mode options are:
Match All Query Words. This option will look at all the words entered in the search field and match them to generate results. For example, if a shopper searched for "the rain boots" Search would look for 3 words: the, rain, boots
Match any of the query words. Similar to the above option, except the results are more explicit, results will be returned for each word in the phrase.
Match Query as a Phrase. This option takes the words entered in search as a phrase and attempts to match them as a complete phrase. For example, "the rain boots".
Match Query as a Boolean Expression. This gets pretty technical, but a Boolean Expression is a true/false query and will match results accordingly.
You are welcome, at any time, to modify the Match Mode and monitor results.