Overview
Sometimes new customers would like us to migrate their email from their old provider to Modern Retail. Modern Retail can migrate your email over to our services at our standard billing rate plus the cost of any 3rd party services.
There are three items that are generally needed when migrating your mail services:
Email Messages
Contacts
Calendar Items
Modern Retail can help you move all three but Contacts and Calendar Items take more time when they need to moved to Rackspace Email.
MigrationWiz

Modern Retail uses a migration service called MigrationWiz to move your email from your old provider over to Modern Retail. This service helps us migrate your email when it is being stored on the server from your previous provider. This service pulls in all your old messages and copies them to your new Rackspace Email or Microsoft Exchange mailbox with Modern Retail.
Rackspace has negotiated a competitive rate of $4.99 per mailbox with MigrationWiz, which they have passed onto Modern Retail. Modern Retail in turn is passing this same rate onto our clients.

Contacts & Calendar Data
Depending on which email platform you choose to migrate to, the items that are migrated by MigrationWiz may differ. The following table shows which items are automatically migrated by the tool.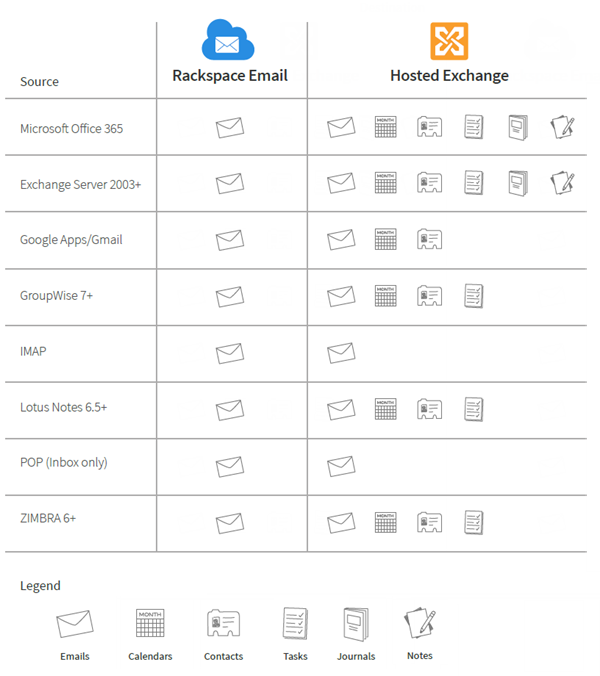 As you can see Contacts and Calendar Items are not migrated with MigrationWiz when you're using Rackspace Email.
However, Modern Retail can migrate these items for you through a manual export and import process. Please let us know if you need your Contacts and Calendar Items migrated to your new mailboxes and we'll get this done for you as well.
Modern Retail Fees
Modern Retail can move a bunch of mailboxes in just one of two hours so please let us know all the mailboxes you'd like to move at once. Modern Retail will setup your new email accounts on our servers and begin the migrations for you. The time to migrate your Email, Contacts and Calendar Items are billed to you at our standard billings rates. You can elect to migrate just your Email or a combination of Email with your Contacts and Calendar Items.
Please let us know what you would like moved prior to us beginning the migration process.
DIY
If you would like to migrate your email yourself, here's some additional information:
We know email is important to you so please don't hesitate to submit a Support Request if you have any questions.