Overview
Email Marketing is still one of the best marketing tools to drive traffic and sales on your website. However, understanding how to send out effective email campaigns is not always immediately clear. This article outlines the anatomy of a good email campaign and the procedures you should follow to keep your customers engaged.
Email Composition
Let's face it, everyone is so busy nowadays they barely have time to think. Because of this, we recommend creating email marketing campaigns that are clear, uncluttered and of course appealing. We also recommend adding some "real text" somewhere in the body of the message. I'm not talking about text that's "baked" onto the image but rather text that can be read and picked up by the email program. While you may think this is a little less appealing, you can do it in such a way that looks good and adds value. The goal of adding text to your mailers is to give it some "real text" so your messages don't get blocked as SPAM.
Here's the anatomy of nice mailer:
Interesting and engaging image.
Clear, concise message.
Text to make it past the SPAM engines.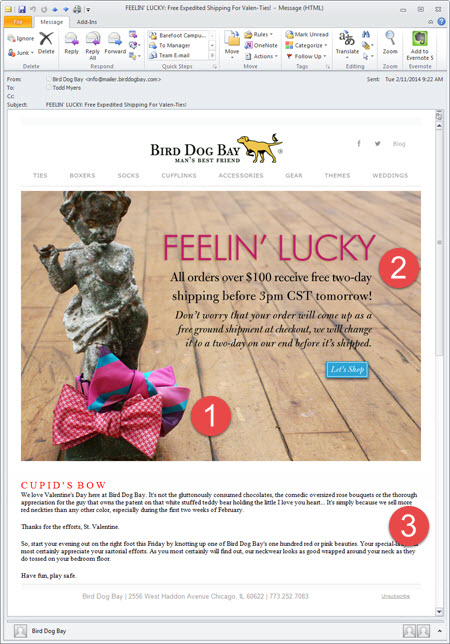 Frequency

Everyone always asks how often is too often to send out these mailers. The answer is, it depends. If you have a younger, hipper customer then it's easier to get away with sending more mailers. Without question this means once every week and sometimes even more. If you clientele is older, then you might consider sending out a mailer every other week.
A customer of ours with an older customer base refused to send email campaigns more than once a month, fearing his customers would revolt and unsubscribe from his mailing list. After a bit of prodding and poking, we convinced him to send out a mailer every other week. What he found was his conversions stayed as high as they ever were and his unsubscribe rates remained constant!
Message
I'm always amazed by the number of people who say they have nothing to talk about and couldn't possibly send a mailer out every week or even every other week. However, it's funny because then I'll ask them:
Did you get any interesting shipments this week?

What sorts of products are in demand right now?

What are this season's trends?

What is your most popular product?

Who is your favorite designer right now?
Nearly ever retailer loves talking about their products, designers and trends of the season and frankly, I have a hard time cutting some off. However, all of these topics make great mailers!
I also love it when retailers infuse their store's personality into the mailers. They don't need to be bland or boring, and don't be shy about expressing your point of view. You're a specialty retailer with ideas, creativity and can do things the "big boxed" retailers can't. Use that to differentiate yourself from everyone else!
Coupon Crack
Coupon Crack is when a retailer thinks they need to issue a coupon with every mailer then send. Just like real crack, you'll immediately get addicted to it because it will give you an instant high. However, you'll quickly find you need more, and even better, coupons to entice the same number of customers to shop at your store. Additionally, people will start to wait for your next coupon and will find it hard to buy anything on your website without a coupon. Unless you are huge discounter, I would stay away from the Coupon Crack.
Do you ever buy supplies from Office Depot, OfficeMax or Staples? I do and rarely buy anything in-store or online without a coupon. Why? Because I know if I wait a week I'll get some sort of coupon.
When
Sending mailers out Tuesday through Friday seem to give the best returns. We typically recommend staying away from the weekend unless you're promoting a holiday like Mother's Day, Valentine's Day, etc. In general, avoid Mondays because, let's face it, most people are heads-down and focused on work. Sending email out during mid-day works great because a lot of people do their shopping at work during lunch.
I always tell retailers to pick a day and make it your mailer day! If we decide a frequency of every week is right for your store, then be committed to sending out a mailer every Wednesday at noon. Customers will begin to expect your mailer every Wednesday but more importantly you'll develop a rhythm and it will actually get sent!
Test Message
This step is often overlooked or skipped by many retailers - don't! Always send yourself a test message before emailing it to your customers. It is amazing how many mistakes you'll find by simply sending yourself a test message.
As you can see being successful with your email marketing is not all that complicated. Simply use the above as guidelines to create a mailing program that's unique to you and your business!
Need more information?