Overview
Related Products are typically used to show alternative colors of your items on the Product Page. When visitors click on one of these alternate colors, they are taken to the Product Page for that item where they can make their purchase. Once you have Related Products, and following the required naming convention, you will find that Store Manager will automatically organize your catalog so these Related Products show up on the Product Page with no additional intervention from you.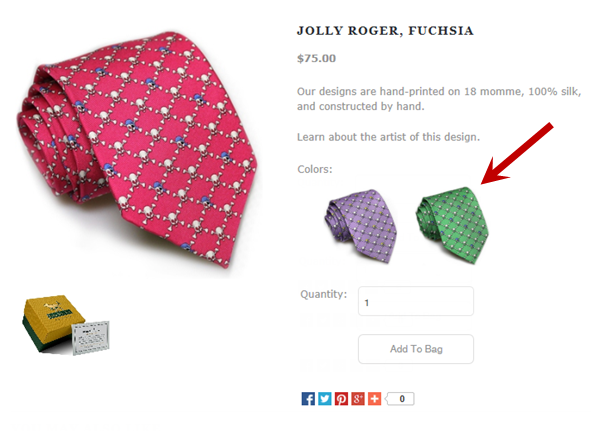 Setting Up
This feature must be enabled in Wordpress by going to HipCommerce > Store Page Settings.

Store Manager will automatically show all Related Products for you, but we need your help to ensure your product catalog is set up correctly. This begins with setting the Related Product Delineator. This parameter will tell Store Manager what constitutes a product family and can be whatever delineator you want (such as a comma, semicolon, colon or a dash).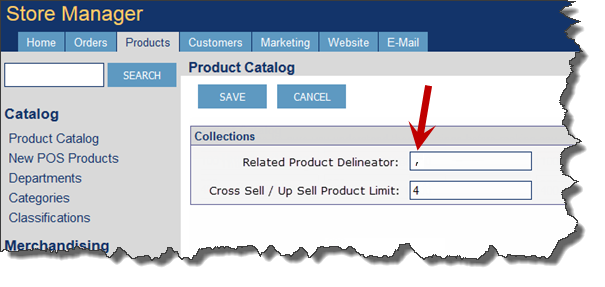 In the example above, the delineator is a comma, which will tell Store Manager to treat all products as the same product family that have the same name up until the comma.
Product Naming Convention
It is crucial that you be very consistent in how you name your products in Store Manager. Everything before the Related Product Delineator must be exactly the same as the other products in the family. Continuing the above examples, these products are all related because of the Jolly Roger, Color.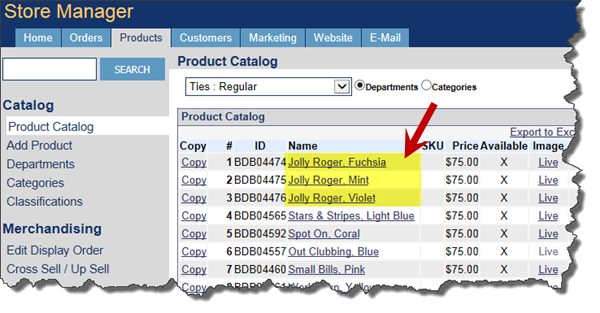 That's it! Once you have it set up and the product catalog naming convention down, the Related Products will automatically show up on your website.