Question
We keep getting requests from potential customers in the UK, Europe and Australia, etc., who'd like to order from our site but are disappointed that they can't do so. We've been able to work with some folks via the store, but I am curious as to whether we would be able to offer that option, or is it too big a headache?
Answer
Accepting International Orders
Yes, you can accept international orders.  Store Manager gives you the ability to pick and choose the countries where you'd like to accept orders from.  To edit these preference, go to Store Manager > Website > Checkout & Credit Cards.  At the bottom of the page, you'll see a section called Shipping Countries.  Simply check the countries where you would like to accept international orders.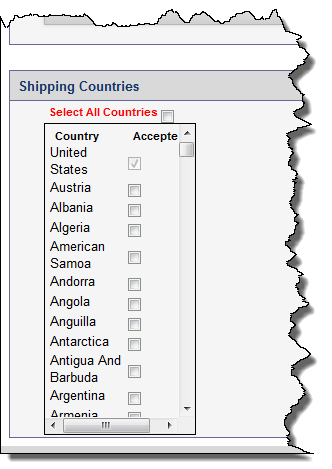 Once you check off the boxes, these countries will appear in Checkout.
International Shipping Charges
Modern Retail can configure a flat-rate shipping charge for every country checked above. However, most stores will keep it simple and use something like:
$15 for Canada and Mexico
$30 everywhere else
You can come up with a separate shipping rate per country, we just need to know what rate you would like to apply to which country.
Shipping Labels
At this time, Store Manager does not print shipping labels for international orders.  Many stores find USPS has some very good rates for international shipping and will use their website when shipping overseas. For our higher volume clients, we can connect Store Manager to a third-party shipping service called ShipStation.  ShipStation prints international shipping labels with a bunch of carriers including: UPS, USPS, FedEx, DHL, etc.  ShipStation also offers a host of other services that are extremely helpful if you have complicated shipping needs, need to select from multiple carries or ship packages in high volume.
Please let us know if you have any more questions about shipping international.  Thank you.